Ethnosh™ guides you to the most delicious ethnic food in your area, garnished with the stories that bring the flavor to life. Immigrant and locally owned monthly food series!
It's NoshUp time! That's right, Thursday, October 16 from 6-8pm, is the next Nosh Up at Paradise India Cuisine in Morrisville. Come get a plate of great Indian food, learn about Hyderabadi cuisine, and meet owner Kris Vishwanathan who brings all this goodness to the Triangle.
$5 at the door gives you access to a tasty mix of signature samplers. Beer, wine, and other beverages are available for purchase.
In the meantime, we've cooked up our Ethnosh signature story sampler, featuring beautiful images from Manzoor Cheemaand and a flavorful writeup by Stacey Sprenz! Check out the full serving on Facebook and enjoy the taste below. See you Thursday, October 16th!
What: Ethnosh
When: October 16, 6-8pm
Where: Paradise India Cuisine
Cost: $5
Paradise India Cuisine
Take a Journey to Hyderabad
BY STACEY S
PRENZ
Food has a way of transporting us.  Experiencing authentic cuisine is a great way to travel without leaving town.  This is the goal that Kris Vishmanathan had in mind when he opened Paradise India Cuisine in Morrisville nearly three years ago.  He wanted to take people to the place he left in 2000, Hyderabad, formerly known as Andhra Pradesh, in India.  Although there are familiar Indian dishes on the menu such as Chicken Tikka Masala, Kris wanted his place to focus on the spicy biryanis and other dishes of his native Hyderabad.  He set out to create the most authentic Hyderabadi dishes by spending time there researching the spices, techniques, and histories of this cuisine.  He would dine in local restaurants to figure out how they developed each dish.  Because they use specific spices in the recipes of that region that are not found in other parts of India, Kris had to become familiar with these ingredients.  Everything is made fresh at Paradise India Cuisine.  Quality and authenticity are paramount to Kris' concept.  He shared that he holds the "secret formula" for the masala used in the Hyderabadi Kacchi Dum Biryani in order to remain consistent and provide a high quality product to his customers.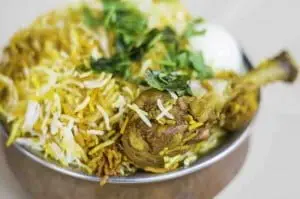 Kris smiles when asked about the Hyderabad area of India.  It is a place known for its cuisine—a "foodie" place for people from all over India.  Hyderabad is a cultural crossroads of sorts.  Kris explains that it is a multi-cultural place where people of the Muslim and Hindu religions reside.  Specialties like haleem, a stew made with lentils, goat, and barley and the Hyderbadi Kacchi Dum Biryani originated in this area.  Kris wanted to share both the familiar and unfamiliar Indian dishes with his customers so they could experience a little of Hyderabad in the Triangle.
Paradise India Cuisine is well known as a contributor to the East Meets West Festival in Morrisville.  The town approached Kris about getting involved, which led to the restaurant winning an award for their signature dish, Hyderbadi Kacchi Dum Biryani.  Kris also participates in the annual Cary Diwali Celebration at the Booth Ampitheater and caters events in locally, in Chapel Hill, and in Greensboro.  He wants the food to remain the focus.  "When people think about real authentic food, I want them to think about Paradise."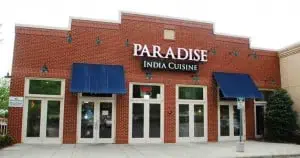 Paradise India Cuisine
10255 Chapel Hill Road
Morrisville, NC 27560
(919) 481-6881
www.paradisenc.com
Ethnosh will be a traveling series with one event every month at a different locally owned, independent and ethnically owned restaurant! If you're interested in being a food blogger for one of these events or recommending a location for this Ethnosh event, contact Stacey Sprenz or Jennifer Martin today!