Brewgaloo is NC's largest beer festival and two-time winner of USA Today's #1 beer festival in the US!
But don't let the name fool you… this fun and FREE-to-attend community event features more than just delicious North Carolina brews!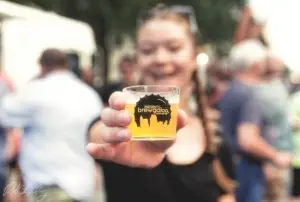 Check out these gluten-free beverage options including ciders and spiked seltzers as well as some tasty gluten-free, vegetarian, and vegan food options from our food truck friends that will be at Brewgaloo 2023 on April 21 + 22 in Downtown Raleigh.
Cider
Bull City Ciderworks
Noble Cider
Oak City Bubbly
Urban Orchard Cider Co.
James Creek Cider House
Gingers Revenge
Brunswick Beer and Cider
Food Options for Dietary Restriction

GF = Gluten Free | V = Vegetarian | VG = Vegan | DF = Dairy Free
Not Just A Fry Guy – Celiac Safe Truck 
Gluten Free truck – no cross contamination or gluten has ever entered the truck or fryers.
Bulkogi 
Tofu Substitution on any plate (V)
How Bout Burger
Black bean burger (V) (VG)
Lettuce wrap burger (GF)
Las Gringas
Variety of Tacos, Rice Bowls, and Salads (V, VG, GF)
Burritos and Quesadillas (V, VG)
Qspresso
Maduros, Tostones, and Yuca (VG, GF)
Mama Voula
Veggie/Vegan Pita
Greek Fries (V) (VG)
Hummus and Pita (GF) (DF) (V) (VG)
Lao Lao
Vegan Laab (V) (VG)
Summer Rolls (GF) (V) (VG)
Lee's Kitchen
 Vegan Spinach Patty (V)(VG)
The Tasty Turkey-Que
Vegan Turkey Barbecue can be substituted with any menu option (V) (VG)
Vegetable egg rolls (V) (VG)
Turkey barbecue and coleslaw Bowl (GF)
HotBox Pizza
Marinara Pizza (VG) (V) (DF)
Margherita Pizza (V)
White Mushroom Pizza (V)
Bianca Pizza (V)
Beefy Buns 
Poblanos Tacos
All Items on the menu can be made V or VG.
Loaded Nachos (GF)
Veggie Taco Tray (GF) (V) (VG)
Blu Tee Spoon
From Mac and Cheese to Burgers, their whole truck is V or VG!
Moon Runners Saloon 
Smoked Brisket Sandwich (GF)

½ Rack of Ribs (GF)

5 Jumbo Wing & FF Combo (GF)

Baja Corn Nuggets (V)
Apple Pie Moonshine Gravy Fries (V)
Presti Pizza
Cheese pizza (V)

Green Peppers & Onion Pizza (V)
Flaky Delights 
Haitian Patties (V) (VG)

 Sides(V)(VG): Bannann Peze, Diri, Sos Pwa Nwa, Spicy Pikliez
Party in a Pita
Falafel (VG, GF)
Veggie Gyro (VG, GF)
Hummus/Tabouli Pita Sandwich (VG)
Stuffed Grape Leaves/Hummus Pita Sandwich (V)
Hummus with Pita Wedges (VG, GF)
Baba Ghanouj with Pita Wedges (VG, GF)
Tabouli Salad (VG)
Stuffed Grape Leaves (VG)
Veggie Sampler Platter (VG, GF)
*All Pitas can be served in a GF Pita*
Desserts
Magnificent Concessions
Cotton Candy (GF)
Italian Icees (GF) (VG) (V)
Deep Fried pickles (VG)
Orangeade (GF) (V) (VG)
Apple Pie Fries GF) (V) (VG)
Candy Apples (GF) (V) 
Popcorn (GF) (V) (VG)
JAM Ice Cream
Shaved ice (DF) (GF) (V) (VG)

Ice Cream (GF)