Welcome to Meet the Owner! Shop Local Raleigh is committed to telling the story of Wake County's locally-owned, independent businesses. We take pride in the character these businesses bring to our community and local economy. When shopping at a locally-owned, independent business, you are more than likely interacting with the owner! We started this blog series to help you get to know the local business owners in our community.
This time we caught up with Jared Plummer, owner of Two Roosters Ice Cream. Two Roosters is a mobile ice cream truck that features handcrafted ice cream inspired by North Carolina's food landscape. Here is what Jared had to say about starting his own business, favorite local places to support and advice for aspiring entrepreneurs.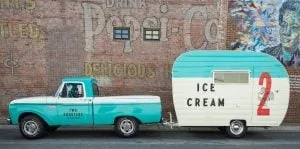 What motivated/inspired you to open a business?
I studied business and accounting in college, and I've always wanted to create a business from zero. Ice cream was the perfect arena for me to express my creative thoughts on food with the backdrop of formal business training.
What is your businesses concept?
We make ice cream. We are all about the ice cream and hospitality. We started as a food truck (running on 3 years now) and are now opening a brick and mortar in Raleigh!
What "sparked" the idea for your concept?
I love ice cream, everything about it. From the flavor development, to the shared memories of eating ice cream with friends and family, to the accounting, yes, even the accounting. I saw an opening in the marketplace for unique, collaborative ice cream and that's what we've brought to life.
What makes owning a business in Wake County special?
I went to NC State and have been in the Triangle since 2001. The growth the area has seen is phenomenal. I remember when North Hills was an area you avoided. Wake County has so much to offer, and one of the rankings I especially pay attention to: Best Place to Raise a Family.
What are some of your favorite local businesses to support (besides yours)?
There are so many! My favorites are Sola Coffee and Jubala Coffee. Anything Ashley Christensen, Durham Bulls, YellowDog Bread Company, Slingshot Coffee and Videri Chocolate are some others my family and I enjoy.
What advice would you give to a new business owner?
Have a dream and have a plan. Don't sacrifice people for the sake of a dollar. Always ask the question, "How are you different?" The three questions you need to ask yourself before opening a business:
Do you have a special/unique skill set or product?
Do you have the perseverance to make this happen?
Is there an opportunity/demand in the marketplace?
How long have you lived in the Triangle?
I went to NC State and have been in the Triangle since 2001.
Where are you from?
Stokesdale, NC (NW Guilford County)
What are you passionate about outside of your business?
Making memories with my wife and family. Knowing God deeper. I love all things basketball. Eating ice cream, does that count?