Welcome to Meet the Owner! Shop Local Raleigh is committed to telling the story of Wake County's locally-owned, independent businesses. We take pride in the character these businesses bring to our community and local economy. When shopping at a locally-owned business, you are more than likely interacting with the owner! We started this blog series to help you get to know the local business owners in our community.
This time we caught up with Courtney Tellefsen, owner of The Produce Box.  The Produce Box delivers fresh, local produce right to your door on a weekly basis. Here is what Courtney had to say about why she started her business, favorite businesses to support and advice to aspiring entrepreneurs.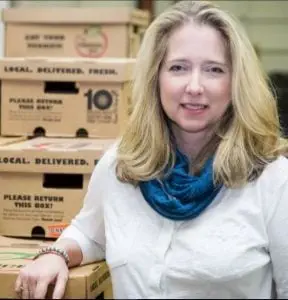 What motivated/inspired you to open a business?
I read Michael Pollan's book "The Omnivore's Dilemma" and joined a local Community Supported Agriculture group. After a few missed food pick-ups and boxes of kale, I thought there had to be a better way!
What is your businesses concept?
We hand deliver fresh, local produce to your door by people who live in your neighborhood. You can't get more local than that!
What "sparked" the idea for your concept?
I was a stay-at-home mom wanting to feed my family healthy, local food. When I figured out THAT part, I asked my neighbors if they were interested and some were. They started delivering to their neighbors and we expanded by leaps and bounds from there. But it all came from the idea of neighbors helping neighbors eat healthy and local!
What makes owning a business in Wake County special?
Wake County is a close-knit community where you feel very connected to small businesses, neighbors in your neighborhood, your schools, other parents and elected officials. This isn't the case in many other communities. I am also thankful for the vibrant local food network in Wake County!
What are some of your favorite local businesses to support (besides yours)?
The Rockford, Irregardless Cafe and Deja Brew are a few of my favorites personally! Our business has supported awesome local businesses such as Springdale Printing, Howard/Merrell and Photofy. We also love to support more than 70 North Carolina farms, close to 100 local artisans from Wake County and all across the state!
What advice would you give to a new business owner?
I would say ask for lots of advice from people who have been in the same position you are now — whether you are in start-up mode, growth mode or an established business. Also get advice from those with different expertise — marketing, etc. It doesn't have to be a formal arrangement. I have coffee monthly with one or two of my mentors to just run things by them and share ideas.
How long have you lived in the Triangle?
All my life!
Where are you from?
I grew up in Cary. My dad and I both went to Cary High School! I started The Produce Box out of my garage in North Raleigh. Many of my Quail Hollow neighbors helped me start the business and were instrumental to its growth and success!
What are you passionate about outside of your business?
My family is everything– my husband, Glen, and my kids Mick and Chloe. We love spending time together at our farm near Oxford. We have donkeys, cows and a bull!