Meet the Owner Series presents…
Imurj
Heather Burns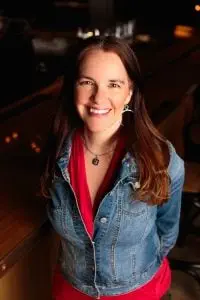 It is not frequent that you hear of a Raleigh business owner from Durham, but Heather Burns is one of them. Burns graduated from East Carolina University with a Bachelor of Science in Business Administration and later earned her Master of Business Administration. Burns is the co-owner of Imurj, a collaborate arts community located on McDowell Street downtown. Imurj was a "joint" dream according to Burns, with her business partner Karl Thor. Thor was an investor in Burns original store, Smart Momma, located on Glenwood Avenue in Raleigh. Burns ran Smart Momma for 10 years before closing it four years ago. Burns was looking for something new, when Thor came to her for help with his music career. He was having a hard time collaborating with other musicians, finding gigs, and how to market himself as a musician. Burns saw an opportunity to help other local musicians and artists that were in the same boat as Thor.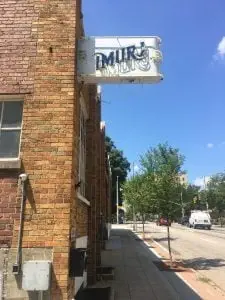 Burns started her career in the corporate world before starting her own business. She was never happy with her job, but it was right for her at the time. The company Burns was working for, wanted to move her to Atlanta, and offered her a severance package if she chose not to move. This gave Burns the perfect opportunity to start something on her own, which ended up becoming Smart Momma. The original idea was to give advice to other young mothers, and Burns started this through a website. She taught herself programming and design through the making of the website and finds it has helped tremendously when starting Imurj. "I like to do my own thing and I like to be creative," said Burns. "I think outside the box and I am driven to be my own boss."
Imurj took quite a few years to get started, especially when it came to finding a space. The original concept started as an online community and grew tremendously. "A digital community is all well and good, but getting off your phone and collaborating with other people is really important," said Burns. Imurj does not consider nonprofits that showcase art and music as "competition," but solely wanted to provide a space to allow artists to grow and collaborate with one another.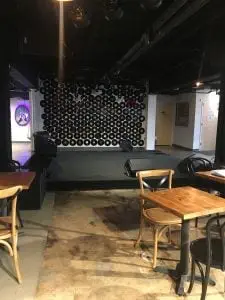 Thor's son owns Whiskey Kitchen, which is a restaurant located  above Imurj. The original space was Raleigh's ambulance bay and was later transformed into The White Horse Limo before becoming Imurj. It took much longer than expected to complete the renovations, which including adding windows and completely transforming the space into something usable. The grand opening of Imurj was in May 2017. Inside Imurj, there is a bar and cafe that sells locally brewed beer and drinks. This does not only benefit the members of Imurj, but brings in a crowd of people for the artists to perform for. There are also two different stages for performances and an art gallery exhibit that displays local artists. Imurj has a recording studio and an art studio available for members for an hourly rate. "We have really great sound in here," said Burns. "It is a basement feel."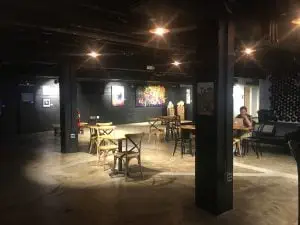 Imurj is locally driven and Burns believes that the local vibes in Raleigh, makes up its character. "Raleigh is growing in technology, but is also growing in culture and the arts, which we are very excited to be a part of," said Burns. She explains that many people want to support locally, including local artists, and Imurj is making it more accessible for the people of Raleigh. "We are doing it in a different way than a gallery," said Burns. "We want people to communicate with the artists." Burns enjoys shopping locally as much as she can, even though being a single mom of three children can become very hectic.
Imurj tends to be the entry point for newer visual artists with the benefits of becoming a member, but also sees seasoned artists as well. For musicians, Imurj sees the most local, amateur bands and tries to advocate for them as much as possible. If Imurj is hosting a touring band, they will have a member of Imurj open up for them. "We cater to the local artists, so we try to do the most we can for them," said Burns.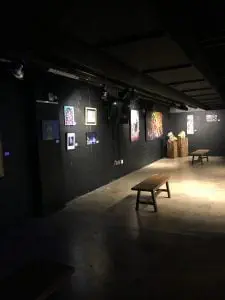 For advice for a new business owner, Burns says "trust your instincts, start lean, and focus." Burns explains that every entrepreneur has struggles so it is important to stay flexible but stay thoughtful to the business, to continue with its core principles. Imurj is hoping to see growth in the future, including reaching out to schools for field trips and learning experiences.
Burns enjoys singing and playing the ukulele time to time. "I am not very good, but I can sing without being off key." To describe Imurj as a genre of music, Burns replied "Indy, because we support independent artists and Imurj has an independent spirit."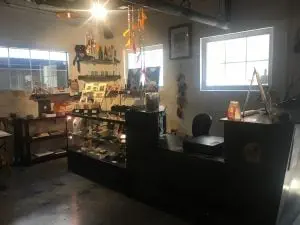 To come and watch a show at Imurj, an entry level membership starts at $1. To become a basic artist member, it is $25 and grows from there. To perform at open mic, you do not have to be a member and Imurj encourages everyone to perform. Imurj is launching a radio in the next coming months, with all the songs by local musicians. They are also creating a program to have local businesses display their members artwork in their shops and restaurants. Burns is excited for the growth to come for Imurj. One of their main goals is to become sustainable in Raleigh and hopefully franchise in other cities such as Charlotte and Wilmington.
Check out Imurj the next few months with the IBMA festival, Hopstoch and SparkCon!