Meet the Owner Series presents…
Leda Goins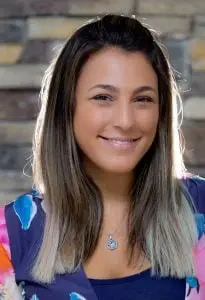 Leda Goins saw a "For Sale" sign for a three-room office and it changed her life. Leda was considering another place to continue styling hair, and came across the space that is now Tone Hair Salon. Her mother in-law is a realtor in Raleigh and introduced her to the office. Leda had a vision to transform the basic office and create something amazing. Leda purchased the building in October 2016, finished renovating it in November, and opened the salon in January of 2017. The salon feels like a real home and is beautiful.  "My stars aligned here," said Leda.
Leda graduated from Peace College in 2003, in Communications. She was interested in TV Broadcasting and during her time at Peace, she interned for G105, a popular pop radio station in the area. After college, instead of pursuing a career in communications, she knew she wanted to do hair. She attended the International School of Hair Design in Raleigh and began styling hair. For the first couple years, she worked in a salon, but quickly realized that she wanted to be on her own. Leda operated her own booth rental for 12 years until opening up Tone Hair Salon.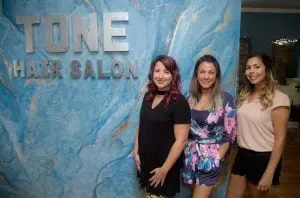 Leda absolutely loves working with hair. Just from talking with her, I could see her passion for helping others through the work she does. Leda has spent countless hours working with clients on color corrections, extensions and other hair services. Leda considers the employees and stylists at Tone Hair Salon as her family. She adores them and believes that the salon gives off good energy.
"I want the salon to be like your home," said Leda. "I don't like the sloppy salon look. You won't find products stacked all over each station." All of the interior design in the Salon was done by Leda herself, with the help of her husband. In the salon, there are beautiful statement walls, including a stone wall done by hand and a hand painted entrance wall done by a local artist (shown above). It looks amazing!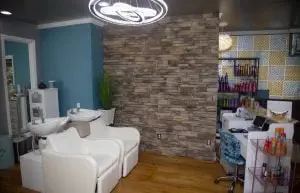 For the name Tone Hair Salon, Leda said that she wanted to keep it simple. She describes Tone as a boutique salon. "We are definitely more custom to you and your hair." One of Leda's favorite things to work on is color corrections, because she loves the challenge and how happy her clients are afterward. Her busiest days are Tuesdays, Wednesdays and Thursdays. Leda has seen that even with the change of location from her previous downtown salon, to North Raleigh, her clients have stayed with her. "I am really, really happy that I made this decision to come here."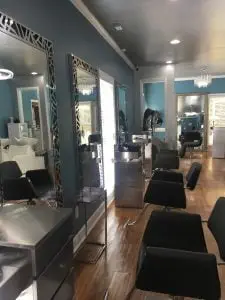 Leda has been in the Raleigh area for 20 years now and loves to shop local. "I will buy from a small business in a heartbeat". I was surprised to hear that Goins never goes to Walmart or Target and consciously tries to buy everything locally. Growing up in New York, she was used shopping at the local businesses in her area. I could tell that she has a passion for local businesses and she does the best she can contribute to the local community.
I asked Leda if she had any advice to someone just starting out in their own small business. "There are five love languages for relationships, and there are five love languages for your clients, learn to know what they need" replied Leda.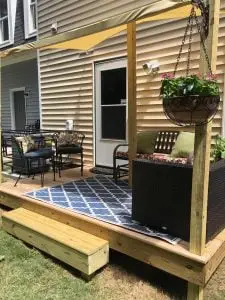 To describe Tone as a genre of music, Goins replied "Some smooth house music, with a chill vibe." She wants her clients to feel comfortable and relaxed when they come in and the atmosphere and music definitely adds to that. One thing that Leda likes to do is try out her products and extensions on herself, before using them on a client. She has tried almost every color on her hair and continues to try new things. Leda  strives to attend at least a few nationwide Hair Conventions each year to stay ahead of the latest products and trends.  One of the awesome experiences Leda has been involved in is Models for Charity. She really tested her ability by making hair styles that you would see on the runway.
Leda's experience with being a hairstylist has been very positive. Not only does she cut her clients hair, she has watched them grow and has become friends with them. She has attended weddings, graduations, the list is endless. The process of owning her own salon has been fairly easy with the support from her husband and son. Overall, Leda could not be happier with what Tone has become and looks forward to its growth in the future!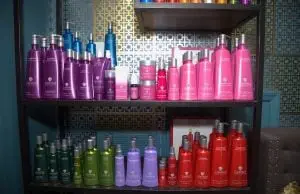 Written by Megan Brown
Shop Local Raleigh Intern
TONE HAIR SALON
https://www.tonehairsalon.com/
808 Salem Woods Dr #105, Raleigh, NC 27615
(919) 622-9963