Roger Pelayo is a Chef, but he isn't your typical hot-headed Gordan Ramsey type. He says "being a chef is not about cooking what you like, it's what everyone else likes." He is a humble guy that is willing to ask for advice from his neighboring businesses on Hillsborough Street who have been there for years, prior to Umami Bistro's opening; just weeks before the start of the pandemic.
A Little Backstory
Born in the Phillipines, Roger moved to the United States to attend the University of Florida where he earned a degree in Accounting. During his time at the university, he enrolled in an exchange program that took him to Kenya for several semesters. It was during this time that he met his wife who was also in the country for an exchange program from her home in India.
Upon returning to the US, Roger was drawn to the life of a traveling chef. This path took him all around the country where he worked for a Japanese restaurant franchise helping to get new locations up and running. While on the road he met other traveling chef's from all around and when he and his wife decided they were ready to settle down somewhere, he used those connections to help them find the perfect place to call home.
In 2000 Roger and his wife moved to Raleigh and he began working with some of his traveling chef friends at the local Japanese steakhouse, Kanki. In 2003, Roger decided he was ready to take his career to the next level and enrolled in Wake Tech Community College's Culinary & Pastry program. He has since taught courses himself in Asian cuisine at Alamance Community College.
Throughout the years Roger has owned and operated retail establishments, many restaurants including a Papa John's franchise, and purchased a few real estate investment properties as well. He has a niche for finding struggling restaurants, revamping their concepts, and then turning them around to new owners once they are on a successful path. Roger brings the analytical thought processes from his accounting background to each of these projects.
About Umami
Historically Roger has bought and sold businesses but Umami Bistro is different for him and his family. The Hillsborough Street restaurant is the one him and his wife have deemed "the keeper." It is housed in an old movie theater directly across from NC State University. The exposed brick walls showcase murals representing iconic Wolfpack imagery painted by a local artist. Upstairs you will find two outdoor balconies and an eclectic lounge filled with an assortment of mismatched chairs that have all been donated from loyal Umami customers.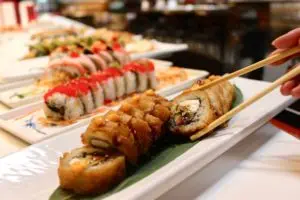 Roger first introduced the Umami concept in Burlington, NC. After its success, he opened another location in Sanford, NC. It was in Sanford that he learned of the "fried sushi roll." Although not a traditional Japanese offering, Roger doesn't let his own preferences get in the way of customer satisfaction. Fried sushi rolls are now a staple on the Umami menu.
As luck would have it, the Umami Raleigh location was opened just a few weeks prior to the pandemic shutdowns. Roger was able to work with his landlord to negotiate rent and close down the business during 2020 without losing his lease. Umami opened for take out in 2021 but Roger considers Spring of this year as the official opening of Umami Bistro on Hillsborough Street.
Umami's Raleigh location is now the sole restaurant, but Roger has expanded in other ways including a food truck and catering business. Additionally, the Hillsborough Street restaurant serves as a ghost kitchen for about 13 franchise concepts. Most of the concepts are Asian cuisine but the Umami kitchen has also branched out to serve up American classics like burgers, wings, and cheesesteaks. Roger uses the data from these other concepts to help understand the price point and preferences of his largest customer base, students.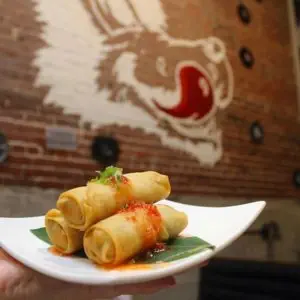 Roger remembers his college years and having to be mindful of his budget when eating out. He recalls going to the Chinese takeout spot across from school to get a pint of chicken fried rice for just a couple of bucks. He attributes the popularity of the fried rice from one of the ghost kitchen concepts to its affordability (in addition to it being a filling and tasty meal). This information has helped Roger tailor the Umami menu to meet the needs of students.
To further cater towards students and help with staffing constraints, Roger implemented some new systems that he noticed were working well at other establishments. Umami features self-ordering kiosks at the entrance of their dining room. When customers place their order and pay at the kiosk they are assigned a number. Once the customer's meal is ready for pickup from the takeout counter, the order number is called out over a loudspeaker and appears on an electronic display. This system has been popular with busy students as it allows them the ability to quickly order and get their food for dine-in or takeout without going through the steps of a full-service experience.
Like many restaurants in the post-pandemic climate, Umami has struggled to stay fully staffed. After learning of the use of robots as servers in other restaurants, Roger placed his order for one and started outfitting Umami in anticipation of its arrival from backorder. You will find QR codes on all the tables at the restaurant which allows customers to order through their phones. Once the robot server arrives, this order system will be synced to its program to allow for order AND robot delivery of your meal.
To connect with the community, Roger has opened up the use of Umami's two story space for special events and social nights. Join them one Sunday for Beats and Brunch or sign-up for Salsa Night on the 2nd and 4th Thursdays of the month. You can learn more about upcoming events at Umami on their Instagram and Facebook pages.
What advice does Roger have for other business owners?
He says to not count the hours. You are going to work 40+ and stress is just a part of the business. Roger laughs when he mentions that his therapist once told him "I think you actually like being stressed"- which helps explain why Roger always has so many projects going on.
He doesn't let his many business ventures get in the way of family life though. When on vacation, Roger leaves his phone at the office so he can unplug and enjoy his time away with loved ones.
So what's next?
In a few months, Roger will be traveling cross-country with his family in a rented RV. In true character, this is him testing out retirement before committing to his next project of life on the road.