Ethnosh™ guides you to the most delicious ethnic food in your area, garnished with the stories that bring the flavor to life. Immigrant and locally owned monthly food series!
It's NoshUp time! That's right, tomorrow, March 18 from 6-8pm, is the next Nosh Up with Sassool.
$5 at the door gives you access to a tasty mix of signature samplers. Craft beer, wine and other beverages will also be available for purchase.
In the meantime, we've cooked up our Ethnosh signature story sampler, featuring beautiful images from food photographer Felicia Perry Photography & blogger Whitney Smolan. Check out the full serving on Facebook and enjoy the taste below. See you tomorrow, Wednesday, March 18!
What: Ethnosh
When: March 18, 6-8pm
Where: Sassool
Cost: $5
A Family Extended
by Whitney Smolan
Photography by Felicia Perry Photography
Upon entering Sassool, I am instantly embraced by the large, and yet cozy, atmosphere. There are multiple dining areas, a Lebanese market and rows of sweets and breads outlining the perimeter. I am welcomed with warm smiles, hugs and graciousness and immediately I feel like one of the family.
Sassool is a family-owned cafe, bakery and market serving authentic Lebanese and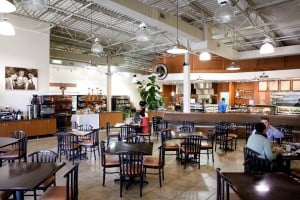 Mediterranean cuisine. Originally, Sassool opened in December of 2011 operating under the well-known name of Neomonde. Neomonde transitioned into Sassool on Mother's Day, May 11, 2014 to honor the owner's mother, Cecilia, for her authentic, Lebanese recipes. With the rebranding, Sassool owner, Mounir Saleh, has empowered two of his daughters, Noelle and Simone, to manage the restaurant.
Sassool is the nickname of Noelle and Simone's grandmother, Cecilia, given to her when she was a child. Cecilia passed down her recipes to her four sons which became the recipes used at Neomonde and Sassool. "She is so humble and she doesn't even realize what she's built here. She gives all the credit to her sons, but really, Sassool is all because of her", says Noelle. The love Noelle and Simone have for their grandmother is fierce and genuine. Any time the name "Cecilia" is mentioned both daughters light up and are eager to talk about their beloved grandmother. The two have learned so much from Cecilia and they insist the restaurants, and their family, would not be the same without her influence.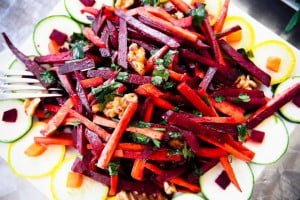 Cooking Lebanese food is in Noelle and Simone's blood. From the time they were toddlers, they're learned how to prepare and create traditional Lebanese cuisine. This type of food is very flavorful, yet mild. There is no heavy spice, but instead, each meal is delicately balanced. At Sassool, they refrain from making large batches of food. They want to ensure that each customer receives a meal that tastes as if their own mother just put dinner on the table. Sassool employees purchase produce from the farmer's market at least twice a week. They also get their meat from local farmers. It's important to them to serve fresh, healthy meals to their second family, their customers.
The biggest challenge for Sassool has been rebranding. Many customers were confused with the name change and didn't understand how or why Neomonde turned into Sassool. Noelle and Simone explained they did not intend to divert from anything but simply wanted to dedicate Sassool to their grandmother. When the story behind the rebranding is explained, customers feel an even greater connection to the restaurant and family they love. Simone said, "At least 10 ladies have cried in the store because of the inspiring story of Cecilia and our family's dedication to her through Sassool." The fact that the name change took place on Mother's Day makes it all the more special – to the Saleh family and their customers. Although Sassool & Neomonde are marketed separately, the bread still comes from Neomonde and they have the same suppliers in their market selection. Noelle & Simone still see their other family members often at church, birthday parties and weekend get togethers. To them, family is everything.
Being separate from Neomonde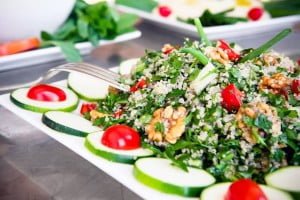 allows Noelle & Simone  more freedom with the menu and the creative process. They take unique perspectives on food with a combination of flavors and couple that with Cecilia's vision, quality and freshness. Some items they have added to the menu at Sassool include: Quinoa salad, Kale salad, Autumn Root salad, and specialty pies like Chicken Shawarma and Fig Mint Pie. A huge hit has been the seasonal Spicy Sweet Potato Salad. Customer's love it so much Noelle & Simone have decided to keep it on the menu!
Noelle, Simone & Mounir would love to grow Sassool. Their customers absolutely love what they do. The food is healthy and delicious and the atmosphere is inviting and warm. For the family, it's a way to give back to their friends and their community. Knowing that their customers are receiving something healthy fires them up and it is a very rewarding experience to serve fresh, quality meals. For Mounir, it is so satisfying to see Noelle & Simone running Sassool; it's one of the many blessings he has received. He never expected them to love what he does but he is incredibly grateful they do. Throughout this entire journey one thing is evident at Sassool – it starts and ends with family.
Sassool
9650 Strickland Rd.
Raleigh, NC 27615
Ethnosh is a traveling dinner series, with one event each month, at immigrant owned restaurants featuring their authentic ethnic cuisine! If you're interested in being a food blogger or photographer for one of these events or have a location to recommend, please contact Stacey Sprenz or Jennifer Martin today!
Copyright© 2015 Shop Local Raleigh, All rights reserved.