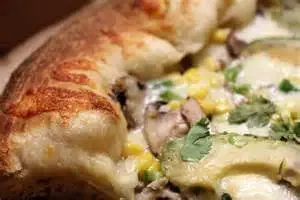 As a recent post-grad, I think it is fair to say that my palette (is that even the right word?) is far from sophisticated. I spent my days in college hopping between naps, McDonald's, and the Hill of Beans…Bean Hill…Village Bean…whatever, it was the library coffee place that I clearly only visited after 2am. The amazing, local Raleigh food I was surrounded by barely fazed me as I whizzed past The Flying Biscuit to get my generic, Chick-fil-a kid's meal. So, in my post-grad life, I have made a promise to myself to focus on local Raleigh eateries, services, etc. to make this city a lifelong home. But, let's be serious, I am still far from a "foodie" and until I stop craving the greasiest chemicals I can find, I need to ease into this process.
What better way to do that than with: PIZZA. Man, this town has a lot of local pizza options. As a former Papa John's employee, I know how to sling a good dough pie…wait, does that have a double meaning? Anyway, I know it takes some extra flair to make a truly delish pizza and these locations deliver.
My first stop: Lilly's Pizza. Holy moly pizza batman. I don't know what sort of secret love potion is in Lilly's dough, but it is fabulous. All of their ingredients come from local farms, and are completely natural. Including their cheese which comes from local cows and…drumroll, please BUFFALO MILK! Are you serious? That might be the coolest thing I have heard all week.
Next up: the Moonlight Pizza Company. Such. Fresh. Veggies. I mean, the last thing I was expecting when my pizza made that glorious journey to my outside table and landed in front of me was to see the biggest mushrooms these eyes have ever seen. Where did they find those? The Amazon? The crazy part is that Moonlight focuses on local ingredients and offering a hang-out-with-friends-after-typing-your-fingers-to-the-bone-all-day atmosphere so those ginormo mushrooms came from this area. If I see a mushroom that big in my backyard, I'm calling animal control. Or Moonlight. To tame it and stick it on my pizza. Great experience, great ingredients, and a lot of good beer specials here, too(mmm alcohol.)
Two Guys Pizza: As a general venue, I had made quite a few visits to Two Guys Pizza and its neighbor company, The Keg. My sorority held some date parties there, and it was a central location for the Hillsborough Hike, but I had yet to eat their pizza with fully..uh..clear thoughts. So, I was pleasantly surprised by their NY Style pizza with tangy tomato sauce. A good value for sure, and in such a convenient location for students. Also, the people watching I participated in while eating in their outside patio area was prime. I mean, prime. Like an airport.
Ruckus Pizza and Spirits: This local pizza establishment will always hold a special place in my heart. Because of their delicious pizza and entrée options? Sure, but more because their service has always been spot on. Particularly, while eating at the bar one fine evening, I got a surprise cocktail from the bartender serving us because she made a little too much. Umm..YES I will take that free drink. If there is one way to win me over it is by giving me free stuff. It was also delicious so props to that bartender queen for making my day and solidifying my loyalty to Ruckus. That, and their amazing Garlic Knots. NOM.
Klausie's Food Truck: Deep Dish pizza on a food truck. Is it really necessary to say more? I mean this slice was packed with flavor, dribbling down my face. I went so hard on this piece of pizza, I think my intern thought I might have contracted rabies. Everything tasted fresh and local, and their dedication to making a good slice every time really stood out to me. I might have gotten a zit from diving face first into this square of cheesy deliciousness, but boy was it worth it.