Where Business and Community Connect
Raise a Ruckus for those in need!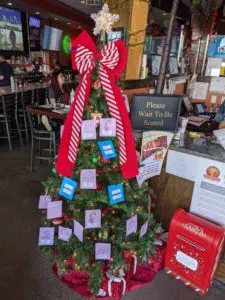 Raising a Ruckus (RaR), a 501c3 non-profit, works with our Wake Co Schools to help identify 50 families that will go without Christmas unless the non-profit can help.
Each card on the tree is a request of a gift from a local Wake Co. school child. Your donation will allow the volunteers to "go shopping" to fill all the requests on the tree.
As you can imagine, the need is the greatest it's ever been, with over 100 requests still outstanding, RaR is reaching out to see if business would be able to help adopt a family by donating to the non-profit and RaR will do the shopping for you. A donation of $400 will sponsor an entire family! Is your business able to help make a difference in the life of a family for Christmas this year?