Riding in luxury while spreading the love of local- with a 2017 Lexus RC350 2-Door Coupe
It's February, it's Brewgaloo meetings, it's the Shop Local Raleigh annual meeting, it's meeting with new members, potential members, current members, it's sitting in committee meetings, it's visiting breweries, it's plain busy.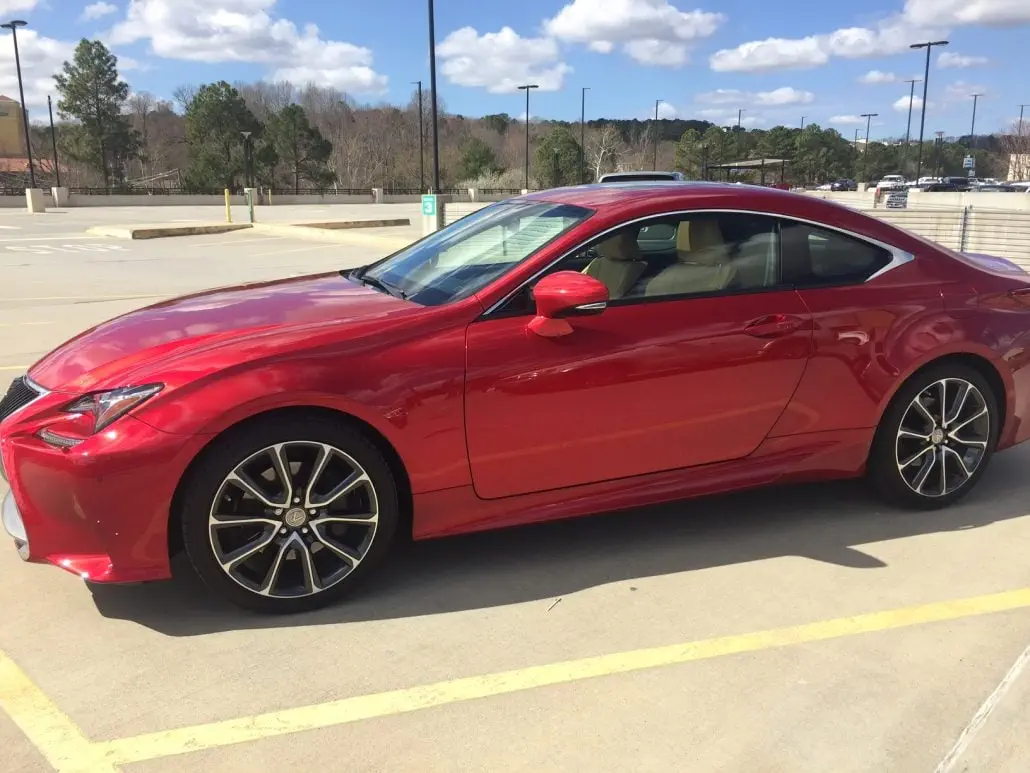 Thankfully, during this busy time, we were given a gorgeous 2017 Lexus RC250 2 door coupe to help us get to place to place and enjoy the ride. The 2017 Lexus RC350 is an incredibly sleek looking vehicle. We were fortunate enough to have it during those rare 70+ degree days, in February, in North Carolina.  The sun roof, the heated seats for the cool nights, the cooled seats for the warm days, the dual control of the temperature and the body hugging comfort seats made this vehicle an absolute to drive in every way.
We're used to driving big vehicles.  We carry a lot of stuff! We were pleasantly surprised to find out how easy it was to transition from a SUV to a two-door coupe and actually be able to see the road easily and drive with ease and confidence.
As you know, Raleigh is a big city and rapidly growing.  Our highways and roadways are much more crowded than they used to be and sitting in traffic is happening more than locals might be accustomed to. One of our favorite feature (along with pretty much everything else) was that the Lexus came with a blind spot monitoring system. Every time there was someone in our blind spot, switching lanes to come near us, just a car right beside us, the little orange light on the side mirrors lit up and gave us an incredible sense of safety and security knowing at all times what was going on around us.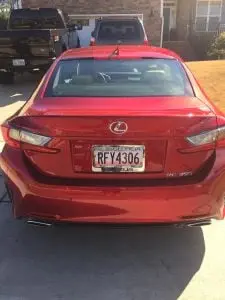 She (the RC350) was incredibly quiet but held so much power. Attending a lot of grand openings, chef cook-off events, council meetings, and more- they are all at night and we often find ourselves getting home after 10pm during the week. With the RC350, there was no fear we would be waking up the neighbors or altering the dogs as we came in because it was as if we were in stealth mode.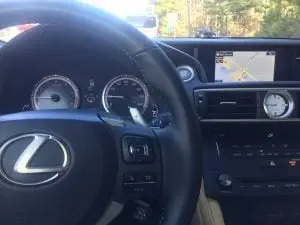 The RC350 offered us Bluetooth so that we could talk handsfree, listen to our favorite business podcasts, had HD radio for real time traffic and weather and could re-route us to make sure we weren't late to our meetings, push of a button adjust the steering wheel, the seats automatically went back every time we opened the door to get out to make it easy and when we started the engine, the seats moved right back into place. This car has everything.  The only thing it was missing was the masseuse to kneed your back and legs while going down the road.
The RC350 offered us an incredible amount of room too! The trunk space can fit eight boxes of knee high boots (yes, we even tried it just to see…) and your groceries at the same time. The front passenger seat can slide forward or all the way back leaving you enough room for any unplanned purchases you make while out and leaves you worry free on how you're going to get in home—did we say shopping? Shop Local Raleigh!
And then our favorite part of the Lexus RC350 and why we sad to see it go but loved to watch her leave—her color and sleek design… Infrared. Oh wow—boy did she sparkle in the sun, in the rain and even under the moonlight. Her 18" aluminum wheels that hugged the road, the vibrant appeal, it was as if everyone knew her name and wanted her. We lovingly call her a she because she's fierce, she's sleek, she's smart, she's sporty and she was all ours for a week.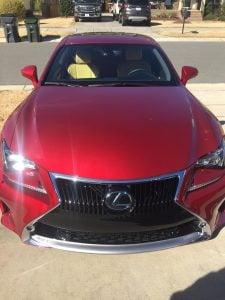 Go ahead, don't be shy.  Go out and see what we're talking about.  Go sit in a RC350 and tell us you don't find it to be incredibly comfortable, luxurious and something that is handled with ease. Thank you Lexus for sponsoring us for a week with your Lexus RC350!
Save