– U P C O M I N G  E V E N T S –
Mark your calendars and reserve your seat for upcoming events this month!
*Mark you calendar for the 3rd Tuesday & 4th Friday of every month so you don't miss these opportunities!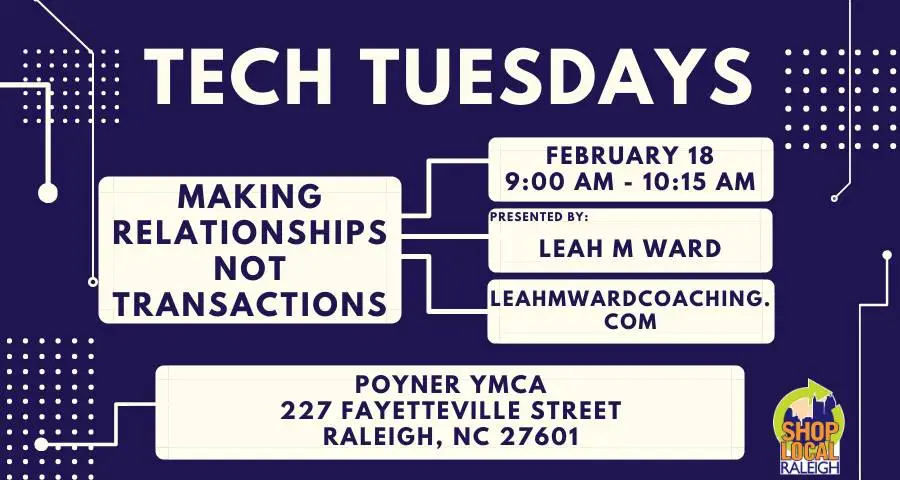 – T E C H   T U E S D A Y –
February's Topic: Making Relationships not Transactions
Tuesday, February 18th
9:00 am – 10:15 am
Poyner YMCA – 2227 Fayetteville St
This month's speaker is Leah M Wardwho will be giving a presentation on the art of communicating in business. Become more self aware, have a better understanding of your unique, diverse communication & behavioral preferences, and gain in practical tools to help yourself and others around you succeed. Learn to put a neutral language to our everyday lives at this month's Tech Tuesday!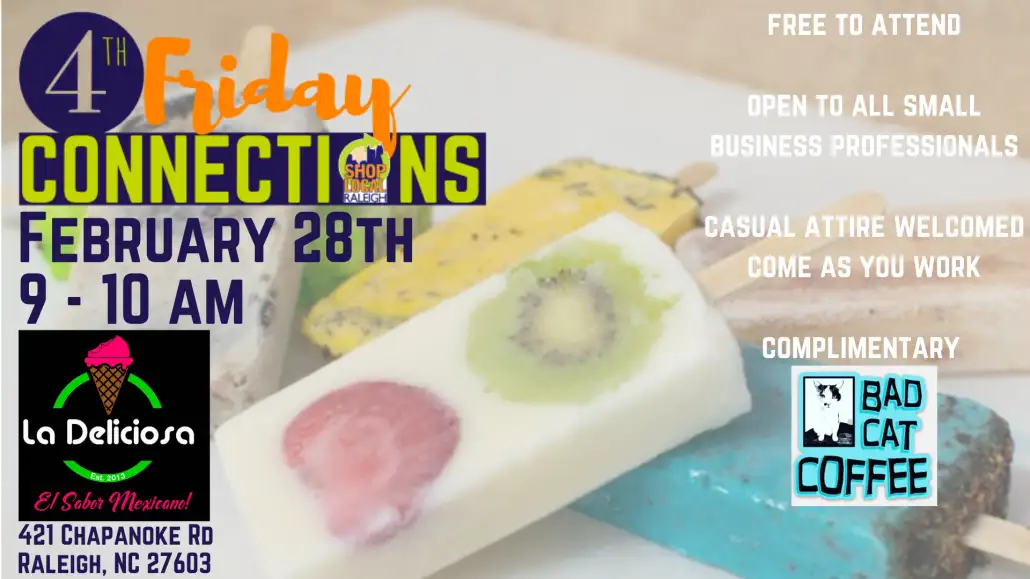 – 4 T H   F R I D A Y –
February's Host: La Deliciosa
Friday, February 28th
9:00 am – 10:00 am
421 Chapanoke Rd
Make your way to La Deliciosa for February's 4th Friday Connections! This Mexican style ice cream parlor is known for their fresh fruit paletas and Mangonadas. Special thanks to our coffee sponsor, Bad Cat Coffee Co., for providing complimentary coffee for attendees!
Let us know you are coming by responding "Going" in the Facebook events and feel free to invite your friends and network!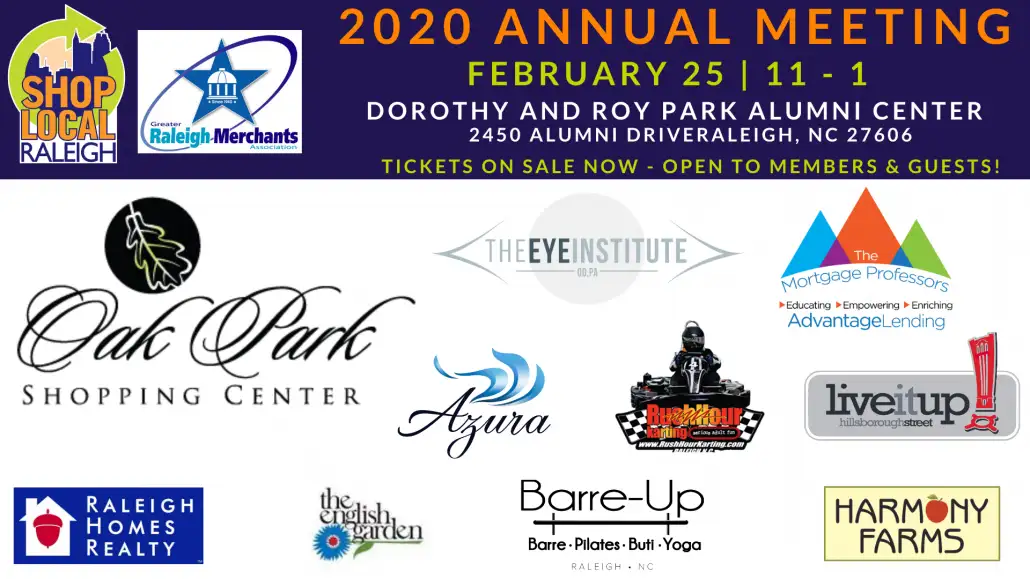 The GRMA/SLR Annual Meeting is held the last Tuesday of February every year. It's a time for members to come together, network, share local bites, and brainstorm with each other. We will review what's happening in our area, get the scoop on what Shop Local Raleigh – Greater Raleigh Merchants Association is up to and hear from special guests leaving you inspired and motivated to break all records in 2020. Your ticket includes a delicious meal, a gift bag, and a surprise or two at the event.
February 25th from 11-1 at the Dorothy & Roy Park Alumni Center
Tickets on sale now! $18 for members until February 21, 2020
Sponsorships Available!!!
With a proven history of success, Brewgaloo is back for it's 9th year! 50,000 attendees, thousands of views on the web page and social media. How will you #Brewgaloo in 2020?
– M E M B E R S H I P   P E R K S –
Make the most of your membership by taking advantage of these SLR programs.
We love seeings locals supporting locals! Take a look at the SLR online directory and view the Member to Member offers to see what local businesses can help serve your needs. Encourage your fellow members to checkout your business by adding a Member to Member offer to your listing!
Cheers to being locally owned & operated! Let us help spread the word about your weekly

drink specials

by adding them to your business listing. It's easy – just login to the website, click "edit" on your listing, and then scroll down to fill in the drink specials section (don't forget to check the box to enable this field). Looking for a local deal? Click here to see what fellow members are serving up!