Turkey Day Take Out and Supplies for Cooking at Home
Whether you are cooking at home or want a Thanksgiving meal to go – we have a local for that!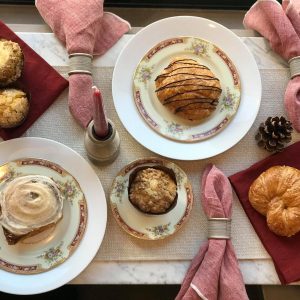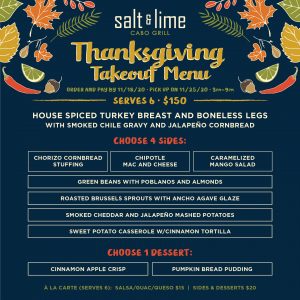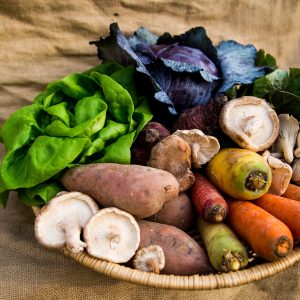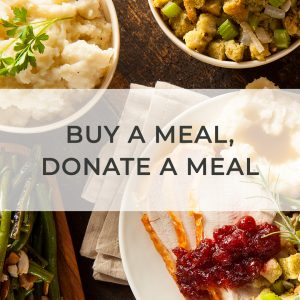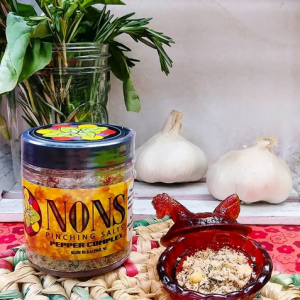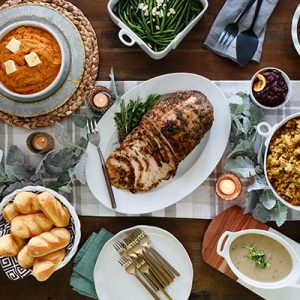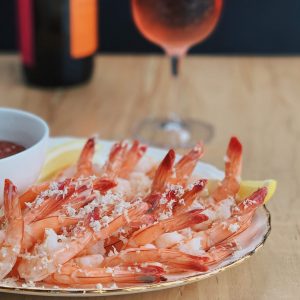 Carrol's Kitchen
A Thanksgiving Meal that Gives Back – Prices & Serving Size Vary
From fresh Roasted Turkey Breasts to Double Crusted Apple Pie, Carrols Kitchen can make your entire Thanksgiving Dinner or you can pick and choose a few of your favorite dishes. Click here to view the menu.
Every meal purchased goes to support the women in their program and you won't have a kitchen to clean. A win-win!
Pre-order by November 19th for pickup on the Tuesday or Wednesday before Thanksgiving.
Click here to place your order online. Orders can also be made in-store or by contacting the Catering Director, Nicole, at 919.612.9860.
Donovan's Dish
Thanksgiving Dinner – Serves 6 – $180
Enjoy a locally prepared Thanksgiving dinner from Dononvan's Dish. The Chef Prepared Thanksgiving Dinner package comes with your choice of meat and pie, along with savory sage gravy, house made cranberry sauce, cornbread stuffing, loaded mashed potatoes, whipped NC sweet potatoes, sautéed green beans, and dinner rolls.
Add-on options include pancetta Brussel sprouts, ham rolls, mac and cheese, plus other holiday favorites.
Order by November 22nd for delivery or in-store pick-up on November 25th.
Kō•än
Build Your Own Thanksgiving – Prices & Serving Size Vary
This year you can create your own Thanksgiving kit, kō•än style. In your kit you have a choice of protein- roasted herb turkey breast, brown sugar glazed ham, roasted turkey legs or turkey thigh confit. For sides you can pick four from an assortment of choices such as collard greens, mac n cheese and sweet potato casserole. Next, pick your bread and finish it off with some of Chef Francisicos infamous pies for dessert! Included in every package is a cranberry compote and classic turkey gravy.
Preorder by November 20th for pickup on

 November 25th starting at 10 am. 
Locals Oyster Bar
Thanksgiving Take & Bake – Prices & Serving Size Vary
Locals Oyster Bar has launched a menu of take & bake dishes designed for your Thanksgiving table. Ready-to-eat dishes include fish dip, crab dip, smoked oysters, shrimp cocktail, and more. Other dishes, like oyster stuffing, cheesy crab potatoes, and roasted oysters will need a quick reheat before serving. They are also offering meal kits for a homemade Low-country boil and seafood stew.

Order now through November 21. Pickups will occur on November 24 & 25 from 11am to 2pm.
NOFO @ The Pig
The Joy of Not Cooking – Prices & Serving Size Vary
Choose all of your favorite starters, sides, and entree's for a NOFO style Thanksgiving at home. Click here to view menu.
Order by Wednesday, November 18 for pickup on Wednesday, November 25
Call 919-821-1240 (ask for Jean or Dan) to place your order.
Plates Neighborhood Kitchen
Plates for the Community – Serves 6-8 – $129
Plates Neighborhood Kitchen is partnering with Food Bank of Central and Eastern North Carolina on "Plates for the Community."
Chef David Mitchell is offering Thanksgiving meal packages designed to feed six to eight people in the comfort of their own homes. Click here to view menu.
Owners of Plates, Steve Day and Justin Gallus, have pledged to provide a $20 donation to the aforementioned charity for each package sold. The donation from each package purchased is enough to provide 100 meals for those in need right here in our local community.
Deadline to order is Monday, November 23
Place your order by  emailing justin@plateskitchen.com or by calling 919-828-0018 (ask for Justin or Mike).
PoshNosh
Thanksgiving with all the Fixings – Serves 6 – $225
A delicious dinner for six that includes all of the traditional components but with a few twists. This meal comes with: 12-14 lbs Brined, herb butter rubbed Turkey ready to roast; Herbed Turkey Gravy; Yukon Gold Mashed Potatoes; Dirty Rice; Sweet Potato Casserole; Creamed Collard Greens; Roasted Brussels Sprouts with Walnuts and Pecans; Spiced Cranberry Relish; Bourbon Pecan OR Pumpkin Pie with Soft Cream. With this full course meal, there will certainly be leftovers!
Reserve your turkey and place your order by 3 PM on Wednesday, November 18th for pickup at PoshNosh Kitchen between 10 AM – 3 PM on Wednesday, November 25th. 
Rocky Top Catering
Ready-to-Serve Pick-Up or Delivery – Serves 4 – $150
Thanksgiving feast hot and ready to serve! You can choose curbside pickup at 1705 East on Thanksgiving Day or they can deliver straight to your door.
The hearty packages feed four and include turkey, ham, brisket, salad, mashed potatoes, green beans, roasted root vegetables, cranberry sauce, dressing, gravy, muffins, biscuits, cookies and your choice of pie. Full menu here.
Orders must be placed by November 20th. These packages feed 4 for $150. 20% service charge and delivery fees additional.
Take & Bake Pickup – Serves 4 – $150
Pick up your Thanksgiving meal on Wednesday before Thanksgiving, complete with reheating instructions.
The take-and-bake package includes the same food items as the hot, ready-to-serve package. Full menu here.
Orders must be placed by November 20th. These packages feed 4 for $150, plus a 20% service charge.
Buy a Meal, Donate a Meal
For every four people you feed, Rocky Top Catering will feed four neighbors in need by providing a Thanksgiving meal to Wake County Public School families who need assistance.
Salt & Lime Cabo Grill
Thanksgiving Takeout – Serves 6 – $150
Sassool
Sides & Cheese Board – Prices & Serving Size Vary
This Thanksgiving looks different to all of us, Sassool is here to provide some comfort with your choice of Thanksgiving sides and a cheese board collaboration with Better with Ju. Be the highlight of this Thanksgiving and order everyone's favorite sides and bring the appetizer everyone loves- cheese!
Call the cafe at 919-847-2700 to place your order. 
Tastefully Served
Thanksgiving Done For You – Serves 4 – $80
Enjoy your Thanksgiving more by letting Tastefully Served do the shopping, chopping, cooking and cleaning! Choose the traditional turkey dinner for 4 and enjoy roasted turkey slices with gravy, smashed potatoes, sausage stuffing, green beans, and homemade cranberry sauce. 
Preorder by November 19th for delivery on November 24th.
The Cupcake Shoppe
Thanksgiving Brunch Box – $26
Includes a croissant, a chocolate croissant, a cinnamon roll, and three muffins (apple cinnamon, cranberry orange, and pumpkin cream cheese)
Order now through 11/21! Pickup or local delivery is available on 11/25.
Place your orders by phone at 919-821-4223. 
Weaver Street Market
Complete Holiday Meals – Prices & Serving Size Vary
Order a turkey dinner complete with all the fixings or piece together your own meal from Weaver Street's holiday menus
Vegetarian and vegan options
Order by Friday, November 20th at 9pm for pick up starting Monday, November 23rd.
Zest Cafe & Home Art
Everything But The Bird – Prices & Serving Size Vary
Zest is serving up everything but the bird this year! NC Sweet Potato Casserole, Southern Style Stuffing, and Braised NC Collards are just a few of the tasty side items you can choose from. Click here to view the full menu.
Orders must be placed by Saturday, November 21st for pick up on Wednesday, November 25th.
Call 919-848-4792 to place your order.
Grocery & Specialty Stores
You can still support local even if you are cooking at home! Pickup everything you need for a Thanksgiving feast from local grocers, farmers, vendors, and specialty stores. Click the images below to see what these local businesses have to offer.