By: Chris Brown
Photo Credits: Torii Noodle Bar
Last week Shop Local Raleigh put together a food blogger event at Torii Noodle Bar and I got the opportunity to try it out. When I heard that Torii was owned by Kanki, I knew that the food was going to be great, but I had little experience with ramen noodles outside of the 99 cent variety. This was why I was a little bit intimidated when I found out that not only were we getting to try out Torii's delicious food but that we were going to get to make the noodles by hand! To say that I'm not a cook would be the understatement of the century, but thanks to executive Chef Alex Cordova, this noodle class was one of the most entertaining and rewarding experiences I have had in a while.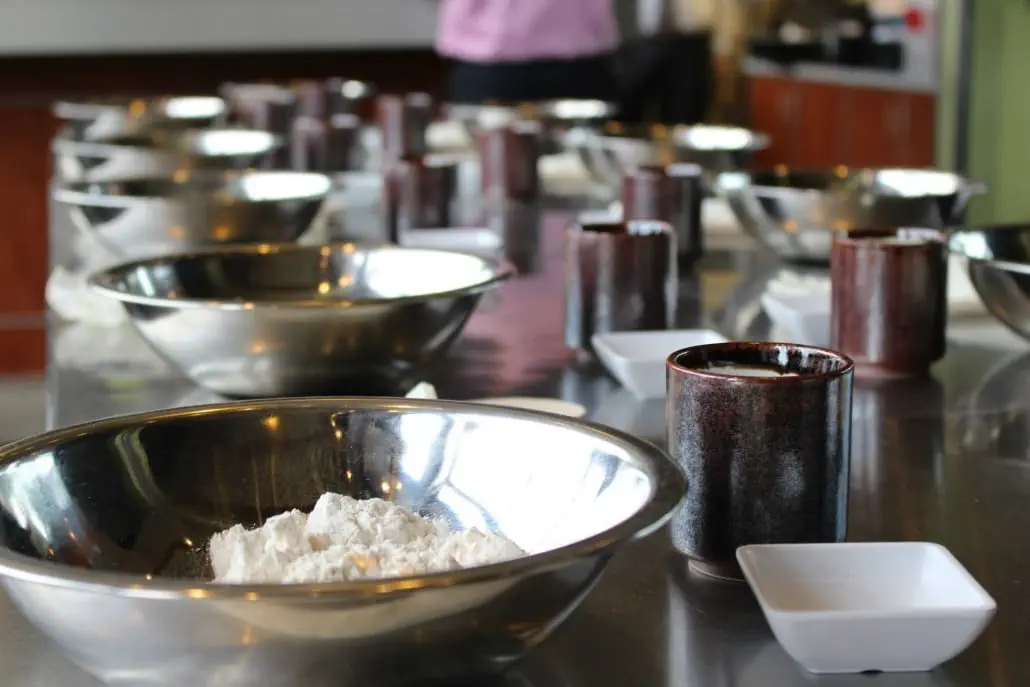 Chef Alex was joined by Tom Mukoyama, the Corporate GM and a Certified Sake Adviser, Reuben Rodillas, the GM for Torii Noodle Bar at Kanki, and Gee Dararouksa, the director of operations for Plaza Associates. The night started off with all the guests mingling inside Torii wonderfully open dining area and trying some of Torii's savory appetizers. While this was going on, a stainless steel table waited patiently in the center of the room with a dozen bowls filled with flour sitting on top of it; that is where this culinary adventure was about to begin. Tom Mukoyama called us all to grab an apron and get to our cooking station so we could begin. Being a Sake Advisor, Tom started everyone off with the first glass of Sake of and taught us the traditional Japanese toast: Kampai!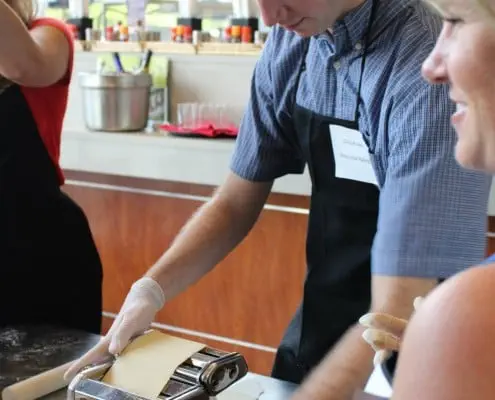 Everyone got a tray of four different broths to taste, ranging from creamy to spicy, that would eventually be added to our finished noodles. Chef Alex then told us about the four ingredients that go into making ramen: wheat flour, salt, water, kansuri. Once we chose our broth, we then started making the noodles. First we added the ingredients together, then we began the long process of kneading the dough inside the stainless steel bowls until we made them into smooth balls about the size of a fist, which Chef Alex made look easy. Once we had our dough balls, we then rolled the balls out into long, flat strips with a wooden roller. This was my favorite part of the whole process because it was such a good stress reliever, I felt like all the tension of a week's worth of work melt away into the flattened dough.
Once we had our rough dough strips, we then ran it through a hand-cranked machine that flattened the dough further and then proceeded to shred the dough into long noodles. After we had our noodles made, the staff took them back to the kitchen to be cooked and then brought finished bowls of ramen back with the broth we chose. They had an assortment of toppings we could add to our meal including pork, tofu, snow peas, and scallions to name a few. I proceeded to have the best bowl of ramen I've ever had, I had no idea ramen could be this good. One of the things I loved about Torii was that I felt like I was getting an authentic ramen experience without feeling like the restaurant was trying to uphold some standard of noodle purism. At Torii, Chef Alex and the whole staff work to give every customer an experience that is unique to them. There really is something for everyone at Torii Noodle Bar.
Now, I know what you are all thinking: "how do I get to do this?" You're in luck! Torii offers Noodle Classes for anyone; all you have to do is follow the link here:  http://toriinoodlebar.com/classes
Kampai!