Our week with the 2017 Toyota Sienna Limited Premium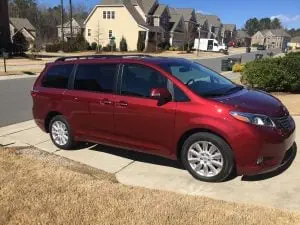 We recently were fortunate to have an opportunity to drive a 2017 Toyota Sienna Limited Premium for a week! The Sienna arrived on a crisp morning, Salsa Red Pearl in color.  Immediately, all of the neighboring moms wanted to know if we had gotten a slick new ride, especially since they all knew we didn't have car seats in our cars. So… let us tell you more about why we choose to test drive the Sienna for a week and what we came to love about it.
Upon first glance at the Sienna, we realized it was roomy—we will get back to this in a little bit and tell you why we need so much room especially not having car seats. It had automatic door open and close, it had BLU-RAY (yes, we said a blu-ray player), it had sliding seats, seats that were removable, seats that could fold back and recline and just all around comfortable seats.
Now that we've talked about what we saw at first glance, let's get into the real reason we loved this, what once was called the Mommy Wagon, but we soon learned that calling this car exactly that was a mistake.
The Sienna we would find would soon become our go to ride for making things happen! The same week we had the Sienna, we were volunteering with the Wake County Partnership to End and Prevent Homelessness on their charity event, the 90's Neon Ball.  The ball was come in your grunge, your neon, your Doc Martens- anything having to do with the 90's. The night was fabulous, filled with great music, great dancing, and raising money for a great cause.  But wait- the end of the night, party is over and everyone wants to go home.  How are we going to get all of the decorations, the party supplies, the backdrops and everything else is take to throw a great event out of the venue…. Have no fear, the Sienna is here!
Upon opening the back hatch, we learned that the Sienna had a button (yes, the touch of a button) that allowed us to automatically fold the rear seats down.  As in, they slide and fold perfectly flat and we didn't have to set anything down, maneuver things to fit around the seats- none of that.  It was an event planners dream.
We filled the Sienna from top to bottom and what took half a dozen trips to the event to get everything there, took one trip to get the supplies back to the office.  At this point we are now dreaming… how can we get this for Brewgaloo! Could you imagine how much we could fit in here…
Oh and the best part- the Sienna gets 22 MPG combined city and highway.  We are driving hundreds of miles every week around town to meet business owners, attend city meetings, make deliveries, it's endless.  We need a vehicle that allows us to be able to fit all of our stuff and is economical.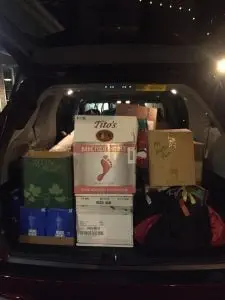 Enough about why we're sold on the Sienna for all things work related. For personal uses—this mini-van screamed "In Charge."  With the push button operated everything.  The sleek design. The heated leather seats, the extra cup holders for our endless need for coffee on the go, and Bluetooth technology, we felt like nothing more than "The Boss" driving the Sienna.
As for the Salsa Red Pearl… that was just a bonus.  After all, we are in Wolfpack County. Go ahead, take a test drive- see what you think.  We wouldn't steer you wrong.  And own a Sienna? Think about volunteering for us with some of our events.  We sure could use the driver who knows they are "The Boss" and well, is willing to let us have some of their cargo room too.
Thank you Toyota for sponsoring us for a week and for allowing us to help the Wake County Partnership to End and Prevent Homelessness with the use of your Sienna Limited Premium Boss ride.