Welcome to the first Apex brewery and tap room!
Since April of 2014, Brüeprint's mission has been for people to enjoy a fresh, delicious beer together, and encourage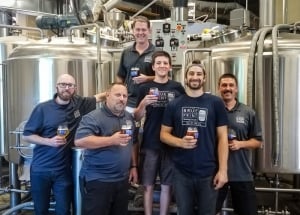 family and friends to spend quality time face to face. Beer has always been at the center of civilization and social connectivity, and Brüeprint endeavors to take an active role in the local community and focuses on promoting traditional socialization.
What makes us unique lies within the craft beer industry itself, where each brewery in our vibrant area puts its own personality into its brews. There's never been a better time to work together and share our craft. At Brüeprint, we strive for balanced, clean and refreshing brües, each carefully designed to fit your favorite gathering. We hope you'll invite us to be a part of your social circle!
A Bit About Us
Our family at Brüeprint started from the world of engineering, and we put our skills and precision into bringing you some of the finest-tuned brües in the region. Brewmaster Brad Fogleman delivers consistently excellent brües that span from our traditional styles to the newest inventive creations in keeping with his scientifically exact process. Our sales and delivery teams have the technical background and service expertise to keep the Brües flowing at local establishments in central and eastern North Carolina, and our Cicerone-certified tap room manager will help guide your palate to happiness!