Welcome to Triangle Twirl, your premier 360 video platform rental company in the Raleigh-Durham, NC area. Owned and operated by Stephanie Lee, a fourth grade teacher by day and twirler by night.
Our mission is to help clients create lasting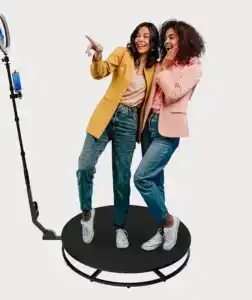 memories at their events by offering state-of-the-art, immersive 360 video experiences.​
At Triangle Twirl, we are committed to using the latest technology in 360 video platform systems, guaranteeing high-quality, shareable content that will make your event stand out. Each video has custom logos and music to meet the needs of that particular event.
Our Core Values:
Customer Satisfaction: We strive to exceed our client's expectations by delivering exceptional service and support at every step of the rental process.

Innovation: We stay on the cutting edge of technology, offering the latest in 360 photo booth features and advancements to make your event truly unique.

Reliability: Our professional team is dedicated to providing dependable service, ensuring that your event runs smoothly from start to finish.

Community: We are proud to serve the Raleigh-Durham area, supporting local businesses and fostering strong connections within our community.