About Possibilities Boutique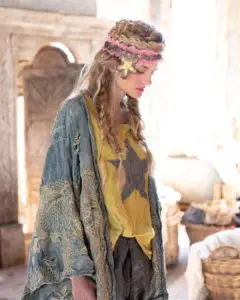 Kathy Fowler Wilkerson still gets excited telling her story. If you didn't know any better, you may think she just started her business last year instead of more than 20 years ago.
In 1977 she was walking to a bank to inquire about a business loan when she passed the University of North Carolina's marching band. It was playing the Rocky theme song. At the time, she thought getting a loan was against the odds, but she received $10,000 from the bank and the same amount from a relative. Seven of her friends lent her $100 each to pay for the first month's rent at her Carrboro location, where she opened Forever Young. She sold an entire rack of clothing the first weekend and promptly paid her friends back.
Nine years later she sold her store after the birth of her daughter, but still did trunk shows. "I still had to be in the business because I loved it so much"
says Kathy.
And she still does…her current boutique, Possibilities, is an extension of her style: artsy, colorful, comfortable, stylish and fun. You'll feel the friendly vibe at both her Cary locations, where the helpful staff is gracious and welcoming.
"I want everyone to feel better when they leave than when they came, regardless of whether they buy anything."
An easy, uncomplicated relationship with fashion has always been her trademark. And she has always had a knack for adding just the right accessory to make it work. Many regular customers express delight in stopping and and seeing a layered ensemble "creatively thrown together" by Kathy and her staff and buy it from top to bottom! Even after 35 years in retail, Wilkerson still enjoys merchandising. "When I go on buying trips, I only buy what I love," she says. "If I don't find beauty in it, it will not be in Possibilities."
Check out our website!