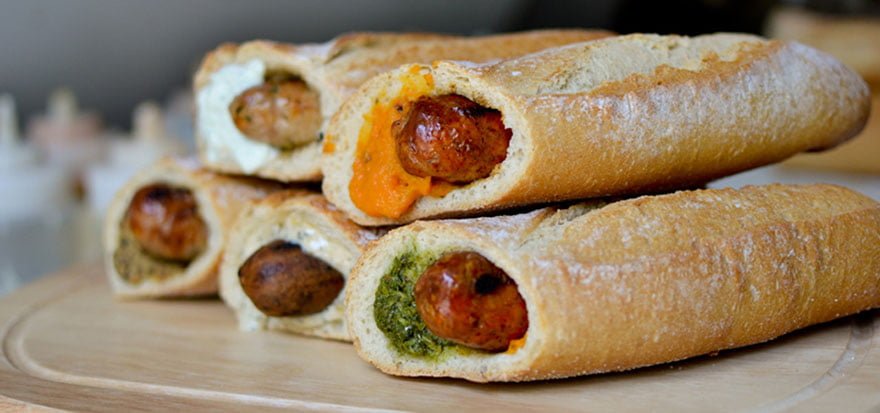 What started as fondly remembered lunch from 1999–in Switzerland–is now one of the hottest food trucks in the Triangle, Baguettaboutit.
Forget about hot dog buns, these sausages come in a freshly baked French baguette along with your sauce of choice deliciously created from ingredients hand-picked from local farmers markets. Baguettaboutit features six flavors of NC-made sausage, choice of eight hand-crafted sauces as well as a vegetarian selection. Checkout our menu!
Our goal is simple: to make a great tasting sandwich with a dedication to using local products as much as possible. You won't be disappointed!
Since 2011, Baguettaboutit has called home to several locations all across the Triangle for lunch and dinner, and as of November 2013 opened its doors to a brick and mortar restaurant in Durham, featuring its same tasty sausage sandwiches as well as a variety of salads, sides and vegetarian options.
The truck regularly makes an appearance at local concerts, food truck rodeos and festivals–and along with the brick and mortar–is always available for catering anytime you want.
Born from passion, culinary expertise, a dedication to local culture and ingredients and most of all a really, really great product-JUST YOUR AVERAGE SAUSAGE? BAGUETTABOUTIT!