Mama Voula's is bringing the finest Mediterranean dining to the Triangle. Homemade traditional gyros, chicken kabob pitas, greek salad, homemade baklava and more.
Mama Voula's is one of the authentic Greek Mediterranean food trucks serving in Durham downtown. The truck's motto is to bring and provide the freshest and most delicious Mediterranean delicacies to its distinguished customers.
Specializing in Authentic Greek dishes, their menu has various flavorful meals such as traditional homemade gyros, chicken kabob pitas, greek salad, homemade baklava, etc. Mama Voula's provides Greece's authentic spirit and warmth to your next catered event and has a customized catering menu. Whether it's an office function, game night, a wedding, or a party, their catering menu is the perfect solution. They are also happy to create unique menu items for your event to match your taste, theme, or dietary needs.
Follow Mama Voula's on social for updates on locations and be sure to try their Lamb Gyro, which is made with seasoned lamb meat served with lettuce, and tomatoes and topped with Mama Voula's tzatziki sauce in a lightly grilled pita.
About Mama Voula's
As a Native of Greece, where Mama Voula served as a personal chef to many families, she quickly acquired the skills to bring the finest Mediterranean dining to the Research Triangle. Their menu includes the best Traditional Gyro's in town topped with Homemade Tzatziki Sauce, Homemade Gyro, Chicken Kabob Pitas, Greek Salad, and Homemade Baklava.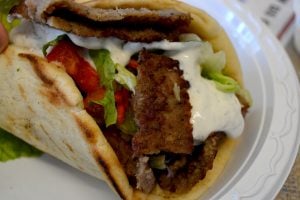 Reviews
Customers say, "The best food, service, and people you will ever come across. Completely authentic, and completely delicious!!!"
"We love Greek food. My husband got the "homemade" and I got the traditional gyro. All we can say is wow, the food was awesome. Everyone was really nice and made sure we had everything we needed. The quality of food was wonderful, presentation was top notch, quick turn over from order to pick up."