Zenith Raleigh is a retro-themed dance club and entertainment venue in Downtown Raleigh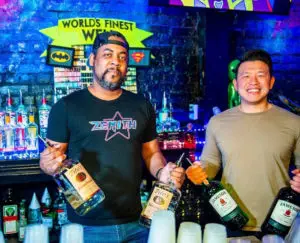 Hop on board for the party at Downtown Raleigh's newest nightlife destination in the renovated space at 226 Fayetteville Street. A pop culture and retro-themed dance club named Zenith Raleigh. Showcasing weekly karaoke, live DJs and drag shows on top of our weekend high energy dance parties, you don't want to miss out!
The 3,500 square foot venue is located at 226 Fayetteville Street (replacing the closed Coglin's Raleigh) and features outdoor patios, a new sound system, and an upgraded lighting program.
"What we are doing will be more pop culture themed across different eras. The music that everyone enjoyed growing up with. It's important to remember growing up does not mean you have to stop having fun."
The venue features party-themed drinks and specialty cocktails like the Blue's Clues, a blueberry citrus rum drink with fresh fruit. Party bar mainstay Jell-O shots are available along with an extensive beer list boasting many locally brewed favorites. In months to come, Zenith will also feature an alcohol-free menu for those who do not drink but still want to enjoy the high-energy dance party. Everyone should feel welcome to enjoy themselves regardless of the content of their drink.
Zenith features the area's best DJs and offers patrons a perfect place to celebrate birthdays, host private parties and teambuilding events plus everything in between.
They also host fun, unique events! Check out the calendar here!