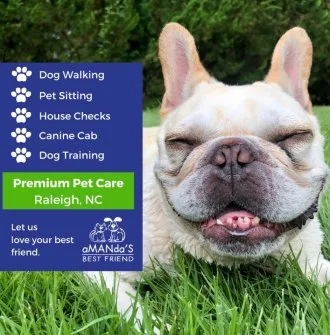 aMANda's Best Friend is a personalized in-home (your home) pet care service. Bonded and insured, offering a variety of services for your canine!  With dog walking to home visits to even canine cab service, we offer Raleigh a premium level of pet care, communication and cooperation to keep your pet in the happiest and safest environment when you're not there.
We hand select our employees based on their experience with and love for animals, customer service experience, and passion for taking care of animals. All of our employees are background checked and hired as W-2 employees rather than independent contractors. We provide ultimate peace of mind to all our customers, as our employees use a technology called Pet Check that gives our customers real-time, detailed updates during our service.
Contact us today via text at (984) 201-2115 to schedule your in-home visit!