Party Reflections, Inc. is a family owned and operated company that has served both North and South Carolina since 1958. With locations in Charlotte,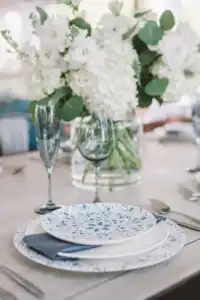 Greensboro, Winston Salem & Raleigh, North Carolina and Columbia, SC, we provide quality equipment at reasonable prices, with personal attention to detail that is second to none.
Party Reflections is the event rental partner for numerous festivals, galas, grand openings, weddings, graduations, corporate events and golf tournaments. We are your one-stop rental headquarters for all of your special event rental needs. Our inventory includes tents with custom fabric draping, lighting, and lounge furniture as well as staples such as linens, tables, chairs and china. We make it happen in the Carolinas!
About Party Reflections
Party Reflections started in 1958 in Charlotte as a chair rental service. It's founder's Wayne and Sue Hooks had a dream and an entrepreneurial spirit that is still alive. It is being operated today by their son, Dan Hooks, President and CEO. Over the years, it has diversified the product offering as the market and industry has grown. The goals remain the same: To offer quality products, innovative ideas and give our partners and clients the service they expect. With the expansion of the company over the last decade, we are now servicing the entire Carolina Region. You can find our offices in Charlotte, Raleigh, Greensboro, and Winston-Salem, North Carolina and Columbia, South Carolina.
You can know who a company is by their values.
With over 60 years of experience and a family culture that sets us apart, you can count on getting the best our industry has to offer. Party Reflections has a set of core values that keep our team and our decisions focused on creating the events our clients have come to expect.