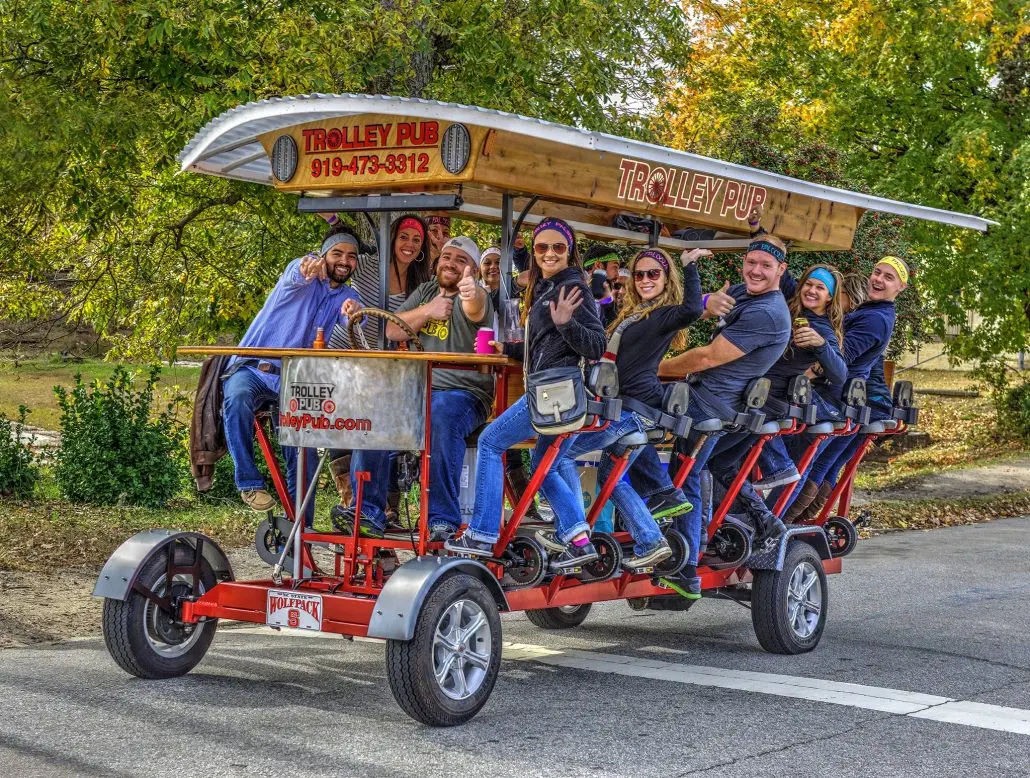 Trolley Pub Raleigh is a pedal-powered, eco-friendly, pub-crawling trolley for up to 14 people at time. The Trolley Pub is powered by YOU and your fellow pedalers. It's hard not to smile on the Trolley Pub!
-14 person pedal-powered trolley
-Go on a tour of the town, pubs or dinner routes.
-BYOB! Bring your own beer or wine! Sorry no hard liquor.
PUB CRAWLS
Our world-famous pedal-powered pubcrawls are our most popular tour. Choose from our partners' bars Downtown, in the Warehouse District and in Glenwood South. Feel free to BYOB (and ice) and get ready to have the pubcrawl of your life!
MIXER NIGHTS
Want to try the Trolley Pub but don't have enough people to fill a full tour? Never fear! On Mixer Tours, you can buy spots on the Trolley Pub for only $30 a seat & start the night right
SPECIAL EVENTS
Would you like to use Trolley Pub at your next special event? We offer special rates & can bring the Trolley Pub to your location. Perfect for weddings, birthdays, corporate events & more. Call us at 919-473-3312 for rates & information.
Click
here
for the Trolley Pub Rules!