Mythical Inferno LLC creates Premium Quality Hot Sauce and Hot Seasonings without the use of Xanthan gum or extracts Combining both flavor and heat that will leave your tastebuds wanting more.
Where can you find it? – click this link
The Sauce!
Mythical Inferno LLC creates Premium Quality Hot Sauce that has Heat & Flavor! Launching with the sauce that won first place in the NC State fair! But that's only the beginning! Three more mouth watering Hot Sauces will be made available to you and Not too long after Hot pepper powders and dry-rubs for when you want something 'Hot!' but not Saucy.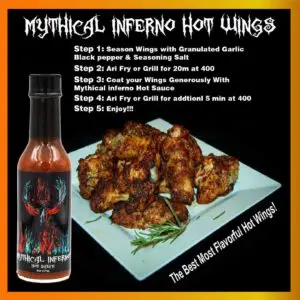 The Owner's Story
All my life I had a passion for hot and spicy foods and especially hot sauces but I always found others either had flavor and no heat or they had all heat but no flavor. So in 2012, I decided to make my own just for the fun of it. I entered it into the NC state fair and It took first place! Ever since then everyone that has tried my sauce has loved it and said the same thing, it has the heat and the flavor, they love it and can not get enough of it. Hearing how people love something that I created is such an amazing feeling. I've grown up with Asperger's, which is a high-functioning form of Autism. So there had been many challenges along my way, but the only thing that held me back from bringing my dream and passion to the world was having the funds to get it off the ground. So I found work, faced my fears, and did things I thought I could never do. I saved up my own money to bring my passion to you, and to bring my dream to the world.