Pioneer Exteriors
Serving Raleigh and the Triangle area of North Carolina since 1960, we install quality vinyl siding and vinyl windows as well as other home improvements. Our knowledgeable, courteous and professional staff make Pioneer what it is today.
Who We Are
Pioneer Awning and Window Corporation was founded in 1960 by Mr. Lacy Hamilton. Mr. Hamilton built the company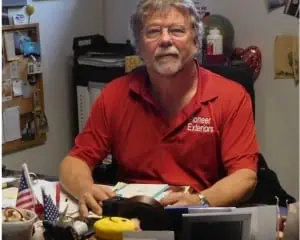 reputation on 100% customer satisfaction. He retired in 1989 and the company was purchased by Drew Netizer and Doug Reese.
In 1994, they decided to relocate to Charlotte, NC, and Andy Young took over. He changed the name to Pioneer Exteriors, and started adding products and services to take care of our customer's needs on the exterior of their home.
In 2002 Lynn Pittman, an eight year employee (General Manager), purchased Pioneer Exteriors and is currently continuing the pursuit of exceptional work for his clients.
Many of the smaller companies in this industry make heavy use of subcontractors. This may allow them to avoid paying family and retirement benefits. It may not be conducive to consistent service quality. Our employees make Pioneer what it is and what it has been since 1960. Thomas J. "Smitty" Smith has been overseeing our manufacturing for forty-three years. From our sales staff through our internal support team, all work hard and remain dedicated to you, "The Customer." We look forward to serving you another forty years.
Products and Services
Storm and Replacement Vinyl Windows
Vinyl Siding & Trim
High Quality Home Improvements
Storm Windows
Storm and Sliding Doors
Gutters and Gutter Covers
Entry Doors
Canopies and Carports
Awnings
Screen and Glass Enclosure
Aluminum Stock/Extrusions
Window and Door Repairs
Contact Us Today! Commercial and residential services provided.