Cool Off With a Delicious Frozen Treat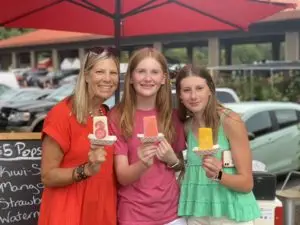 Raleigh Popsicle Co handmakes delicious, fruit-filled popsicles in Raleigh, NC. From a quick, refreshing snack to delicious treats at an event, they are proud to serve quality products all around the Raleigh, NC area and at our new location in the Crabtree Mall.
Check out the menu and keep up with us on social media for more information. Need more information about Raleigh Popsicle event rates? Contact today for additional details or to schedule your next event.
Locally-Made Fresh Fruit Iced Treats – Fresh fruit, local, handmade PopsiclesRaleigh Popsicle Co. is dedicated to serving the best selection of handmade, fresh fruit popsicles. Whether you're stopping in to enjoy a refreshing iced treat by yourself or want to enjoy a conversation over popsicles, we're sure you'll enjoy the fun, friendly atmosphere and attentive staff. You can also book our bike cart for your special event.