ComMotion – Community in Motion is a 501(c)3 non-profit that provides free and low-cost dance classes in-person and online for cancer survivors, military veterans, seniors, and kids.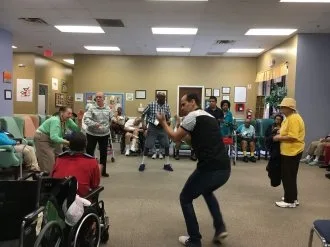 We are ComMotionNC – Community in Motion, a dance organization with the mission of bringing the joy of movement and dance to the community here in the Research Triangle, and beyond. Our group of professional dance instructors and dedicated volunteers provides free and low-cost classes and workshops to groups that can benefit from the physical and emotional benefits of dance and movement but may not be able to afford them. We currently have programs for military veterans, cancer survivors, senior citizens, people with disabilities, and kids.
ComMotion is a sponsored project of Fractured Atlas, a non-profit arts service organization. Contributions for the charitable purposes of ComMotion must be made payable to "Fractured Atlas" and are tax deductible to the extent permitted by law.