Creating a Humane Community – SPCA of Wake County
Our Mission
The mission of the SPCA of Wake County is to transform the lives of pets and people through protection, care, education, and adoption. Our vision is to create a humane community.
Funded by charitable support, we provide vital community programs that pick up where local government agencies leave off. For 52 years, we have provided comprehensive support services to companion animals in need with shelter, care, and adoption services.
We provide people-focused programs that keep families and pets together, including spay/neuter assistance programs, affordable access to basic pet vaccines and preventative care, delivery of pet food and supplies for home-bound, low-income seniors, professional pet behavior assistance, disaster relief, and response efforts, and youth education programs that promote empathy.
Our Programs
Admission Services
SPCA Wake is a limited-admission organization. Between July 2018 and June 2019, the SPCA of Wake County took in a total of 3,785 homeless pets.
SPCA Wake will never euthanize a pet due to lack of space and is committed to saving every animal taken in. SPCA Wake only euthanizes pets who are too ill or too behaviorally unsound to be rehabilitated and adopted. Matching loving families with shelter pets is the heart of what SPCA Wake does daily.
We focus our animal intake efforts on the animals most at-risk of euthanasia at open-admission animal shelters where the sheer volume of incoming animals creates the most risk for euthanasia. We have a strong animal transfer relationship with the Wake County Animal Center (WCAC) and other animal welfare organizations in and around Wake County. Although most of our animal admissions are focused on partnering with and transferring from open-admission animal shelters, we work to divert as many animals as possible from entering area shelters through intake of unowned litters of kittens and puppies.
Volunteers
We are fortunate to have over 1,500 volunteers who provide essential support to the daily operation of the SPCA, including animal care, behavior enrichment, medical care, adoptions, administrative support and special events. In 2019, volunteers provided over 61,000 hours of service — the equivalent of 29 full-time employees.
Foster Program
The SPCA's volunteer Foster Program is a vital part of our effort to save animal lives. These volunteers provide specialized care in their homes for animals who are not yet candidates for adoption because of illness or age. A robust foster care program allows SPCA Wake to respond quickly to emergency pet intake needs, whether from partner shelters or disaster relief efforts. Approximately 1/3 of all incoming animals are cared for in a volunteer foster home for a brief time.
Spay/Neuter Services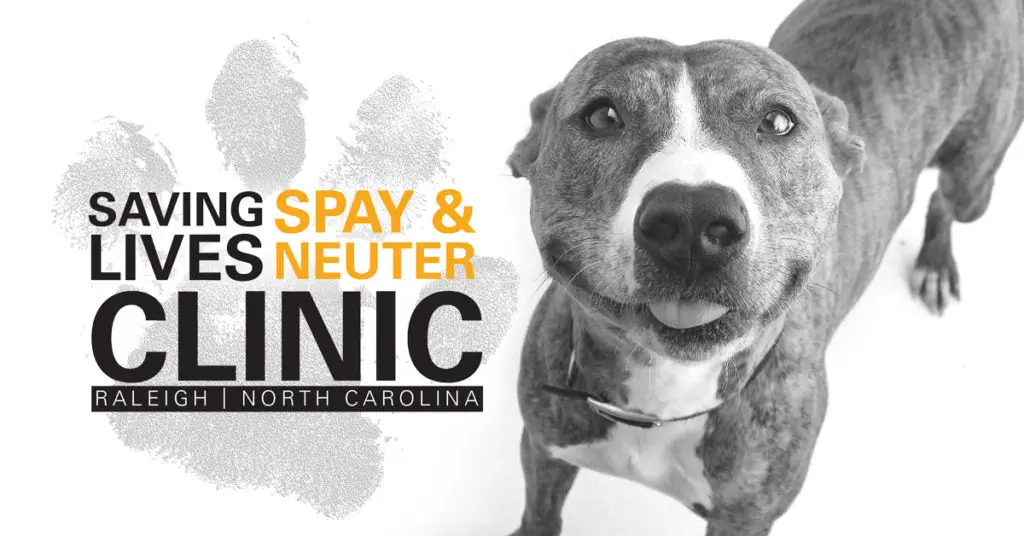 All animals are spayed or neutered prior to adoption from the SPCA of Wake County. This is an essential part of our mission to address pet overpopulation and reduce the number of animals being euthanized in our community.
The Saving Lives Spay/Neuter Clinic enables SPCA Wake to transfer thousands of unsterilized animals from surrounding rural shelters who have few spay/neuter resources. Those pets are adopted through the SPCA, freeing shelter partners to use limited resources for remaining animals. Dozens of area animal rescue groups also effectively utilize this low-cost spay/neuter option and take animals back into their care for adoption. The low-cost price point enables thousands of families to access this vital service.
Spay/Neuter Voucher Program
In partnership with local veterinary clinics, the SPCA sells redeemable vouchers for discounted spay/neuter services at participating area veterinarians. Over 800 vouchers are sold each year.
Behavior Services
The SPCA of Wake County strives to create and support a lifelong bond between pets and their people. We believe in positive, reward-based training that strengthens the human/animal bond and builds trust We provide a library of pet behavior articles as well as a list of force-free trainers to help pet owners solve pet behavior problems.
AniMeals Program
Another service we provide to help keep pets in their homes is the AniMeals program, which provides free pet food to low-income, homebound senior citizen pet owners. This delivery service is provided exclusively by SPCA volunteers.
Humane Education
Educating children and adults about responsible pet ownership and the importance of spaying and neutering their pets is an important aspect of creating a more humane community. The SPCA of Wake County provides a variety of on-site and off-site educational opportunities for people of all ages. The Humane Education program strives to engage the community with messages of personal responsibility while introducing participants to the services of an animal shelter in the community and ways to get involved.
Pet Loss Support
Pets are often beloved family members, and the death of a pet can be a traumatic, life-changing experience for many. The SPCA offers a Pet Loss Support Group for individuals or families grieving the loss of a pet, regardless of when that loss occurred. The Pet Loss Support Group encourages and supports open communication about the loss of one's pet and honors the grieving process as uniquely individual.