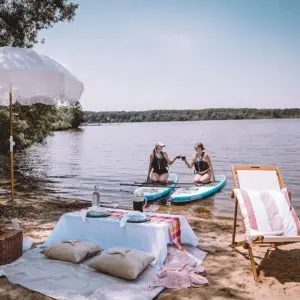 Sweet T Picnics was born out of the idea to enjoy the simple things in life.  Life is too short to not be happy. They want you to be able to unplug from the world, leave the work behind you, relax & unwind with the ones you love. Their tea is sweet, but the memories you make will be even sweeter.
How it Works…
Pick Your Picnic
Select the perfect date, time, and picnic package when you Pick your Picnic!
Each luxury picnic will include the following:
soft waterproof padding for blankets
Large blankets & plush pillows
A table adorned with décor
A picnic basket with plates, utensils, glasses, cloth napkins, wine bottle opener, salt & pepper, bottled still water & S. Pellegrino sparkling water
A game box
Even the little things such as: hand sanitizer, insect repellent, and a custom message for your guests.
Last but not least, you will always have a pitcher of sweet iced tea.​
Your Picnic Day
Their team sets up their exclusive Sweet T Picnics experiences with you and your guests in mind! You can make it extra special with their unique Add-Ons.
Make Sweet Memories
Most importantly, leave your worries behind and create sweet moments in time with the ones you cherish. At the end of your picnic, they will take care of the clean-up!