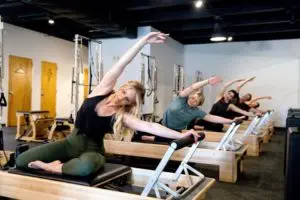 Remedy Movement is a collective of Raleigh's top Pilates and holistic movement teachers, focused on meeting your body's unique needs.  Whether you're looking to jump right into our group classes or seeking more specialized, private sessions with one of their amazing instructors, they are happy to help! Their goal is to meet you where you are to leave you feeling recharged and loving the body you are living in. They invite you to come in and join the movement, and feel your absolute best!
Want To Become A Pilates Teacher? They Offer That Too!
Remedy Movement is proud to be an Authorized Training Center for Balanced Body Education, one of the most comprehensive and respected training programs in our industry!
This program offers a full range of Pilates training options, from the matwork through each piece of equipment, and is deeply rooted in the art and science of movement. You'll also learn from the best: Remedy Movement founder and owner, Melissa Kakavas, NCPT.
Melissa has been a faculty member and Master Instructor for Balanced Body Education, an internationally recognized leader in Pilates Teacher Training for the past 12 years. Clients, yoga teachers, personal trainers, physical therapists, and more flock to this program to learn from the best of the best in the industry.
Remedy's Balanced Body Training Modules take place year-round. Melissa also participates in Balanced Body's Diversity in Pilates program, which opens up doors for scholarship opportunities.
In addition to training modules, our apprenticeship program and mentorship opportunities are designed to support you throughout your journey, at your own pace. Melissa and the entire Remedy team of seasoned instructors are here to help you succeed! And, all contact hours can be applied towards Balanced Body's certification requirements.