Tabletop Media Group is a boutique agency serving clients in the food, beverage, agriculture and lifestyle industries.
From designing a new website to managing your social media – we offer a variety of packages to meet our clients' needs. By equipping our clients with the proper media tools, we deliver the results necessary for our clients to achieve their business goals.
Services include social media, photography, website design, events, graphic design and illustration and videography.
Social media is a must for any successful food, agriculture, beverage or lifestyle business. At Tabletop Media Group, we work closely with our clients to ensure their brand is portrayed positively on social media. We tailor our social media plan to each client's needs and maximize engagement across all social platforms. Services include food photography, headshots, product photos, commercial architecture and events.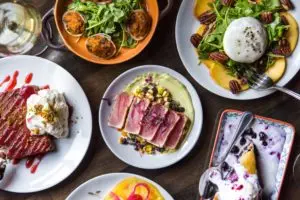 Having an updated, eye-catching website has become a non-negotiable part of any successful business.  Hence, Tabletop Media Group works with our clients to develop user-friendly websites that represent their brand.
Want to host a blogger meet-up at your restaurant or coordinate food and beverage pairings for your upcoming festival? Tabletop Media Group is here to help. Hosting and participating in events is a large part of the work we do for our clients. We keep our client's target audiences, budgets, and goals in mind when designing, promoting, and executing events of all sizes.
At Tabletop Media Group we put our client's needs first; therefore, our designers work directly with our clients to design customized logos and business packages. We also specialize in creating tailored illustrations for your business. Our services include developing high-quality, creative graphics for websites, ads, social media, publications, posters, flyers, billboards, banners, magazines, newspapers and more.
Furthermore, our services include directing, writing, shooting and editing documentary style videos. We also offer our clients basic animation. We work hand-in-hand with our clients to meet their videography needs, whether it involves developing a commercial or a television program.