Che is a restaurant and bakery featuring baked, flaky empanadas with fillings from beef and chicken, to many vegetarian and vegan options.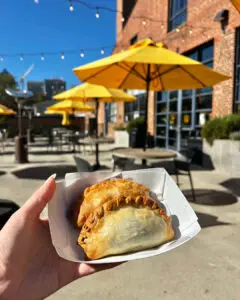 Specials include the Empachori, an Argentinian Chorizo and mozzarella-filled empanada with our housemade chimichurri sauce; Brisket; Shrimp, and more! We also offer a delicious selection of baked goods like tartas (fruit tarts), alfajores (Argentinas signature dessert with dulce de leche, Chocotorta (another distinctive chocolate treat), and weekly specials such as the iconic Choripan, Argentinian Chili, and many other incredible offerings.
Che also offers catering services for events of all sizes, including a beautiful food truck that's available for private and corporate events. Call for catering details
About Che Empanadas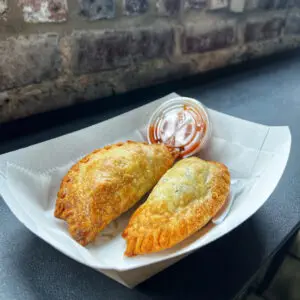 The founder, Anabel, has been making empanadas from her family's recipes for years. Che grew naturally from friends, family, and word of mouth. She uses only the best ingredients that keep her customers coming back time and time again. Stop by Transfer Food Hall to watch a game and have a bite!