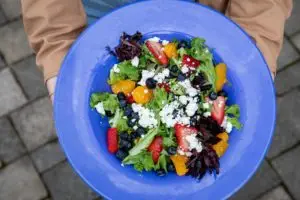 About The Daily Planet Cafe
At The Daily Planet Cafe in downtown Raleigh, NC, we pride ourselves on fresh and local. Fresh produce and products from North Carolina farmers and purveyors, coffee from Larry's Coffee in Raleigh, and beer and wine from across our great state. We're a locally owned North Carolina restaurant in a North Carolina museum—serving breakfast, lunch and small plates made up of the freshest, local ingredients. Whether you're visiting the museum, work and/or live downtown, or are a local who loves local as much as we do, come visit us at the The Daily Planet Cafe. We're open seven days a week, so pick your day, visit the NC Museum of Natural Sciences and have a delicious meal with us!
In addition to great food and drink, The Daily Planet Cafe offers Science Cafes and other special events throughout the year in conjunction with the Museum.
Nothing Could Be Finer
Nothing could be finer than to have fresh, local ingredients from Carolina. That's right, our kitchen is stocked full of products from the great state of North Carolina. From baked pastries and hot breakfast items to burgers and pastas, there is something for everyone. Be sure to stop in and see what is cooking in this fine Carolina kitchen today!
Click here for our menus!
Our Bar
The local and green initiatives don't stop with the food. Our bar features some of the top North Carolina breweries on our eight rotating drafts. We also offer a rotating menu of delicious wines. Meet some friends on our huge outdoor patio and enjoy a delicious beverage (or two!) in the heart of downtown Raleigh.