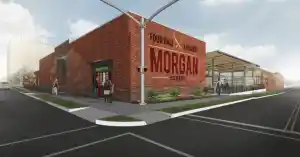 The Morgan Street Food Hall & Market is a new lifestyle dining concept! MSFHM features a partnering confluence of local favorite eateries and restaurants as well as food retailers. We introduce the concept of cross-meal ordering, where different meals are enjoyed in a shared seating area.
With a vast expanse of over 22,000 sq/ft it brings something fun, and new, to the Downtown Raleigh (Warehouse District) Market!
So what exactly is Morgan Street Food Hall & Market?
The Food Hall is a 20,000-square-foot venue that brings 60+ different food stalls, restaurants, and market opportunities.  It also features expansive seating and event programming options. This entire complex sits in the approximate center of the downtown Raleigh Warehouse District. We are adjacent to the transportation hub, Union Station, the 17-story Dillon development, and Citrix Sharefile.
Food Stall Offerings 
The general vision for the food offerings will be a series of stalls and shops. We offer high-quality, chef-driven specialty foods with a wide range of diversity.  Some establishments use a cooked-to-order mentality, while others specialize offerings in a market setting.  Each stall offers a limited number of highly specialized and targeted culinary offerings, artisanal and local in design and execution.
The MSFHM has affordable prices typically found in food halls serving food counter-style.  Each stall presents its own unique personality/trade dress in a size ranging from 30-550 square feet depending on location, menu and the best 'neighbors'. Stalls feature local Triangle area chefs/restaurateurs looking to expand their brand identities or trying to create a new one using Morgan Street Food Hall & Market as an incubator/innovative test kitchen. This space reflects the best of food trends, innovations, and exciting offerings that may be unique to the Greater Raleigh area.
Check out our website for more information!