About Exec Socks
Exec Socks knows the needs of an important business professional such as yourself. We provide a quality sock subscription that brings freshness to your door each month.  Our socks are made with 100% cotton and are designed to express your personality. Our monthly sock subscriptions include a selection of distinctive eye-catching socks guaranteed to impress. And with plans starting at just $10 a month, get exclusively designed socks delivered to your doorstep with ease.
Need a gift idea? Perfect for Father's Day, groomsmen gifts, Christmas, birthdays and more!
We also make custom socks!
We Give Back
What's better than a pair of fresh socks? Refreshing someone else's at the same time. Here at Exec Socks, we know not everyone has the luxury of a full sock drawer. So when you sign up for a quarterly membership, each time we send you a shipment we will also donate a pair of our snazzy socks to Oak City Outreach Center in our hometown of Raleigh, North Carolina.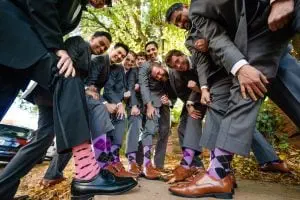 Bold Socks for Bold People