ABOUT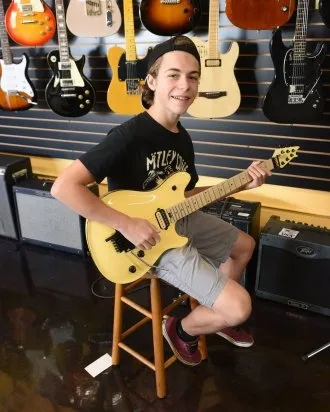 Harry's Guitar Shop opened in 1985 in Raleigh, North Carolina. Since then, we have consistently provided top-notch gear, service, and instruction to all types of musicians, from professionals to first-time buyers.
In addition to our extensive selection of instruments, we keep a wide variety of strings, straps, tubes, pickups, and other accessories on hand.
We offer a variety of instructional books including popular artists' songbooks and guides for the entire range of instruments we sell.
We are also a full-service guitar shop. We keep a full inventory of guitar parts in stock, and our resident guitar tech provides expert repair and service, ensuring structural integrity and proper playability for your instrument.
If you can't find what you are after, please send us an email at info@harrysguitarshop.com or give us a call at 919-828-4888 so we can help you find what you are looking for.
Hours: Monday – Friday: 10:00 – 7:00  Saturday 10:00 – 5:00
LESSONS
Harry's Guitar Shop offers lessons and instruction for all levels of musicians. We teach electric and acoustic guitar, bass, banjo, mandolin, and dobro.
Private one-on-one lessons
All levels/styles
Enthusiastic, professional instructors
Reasonable rates
Convenient hours
Locally owned and operated for over 25 years
Instructors
We have over a dozen instructors at the shop who can meet the instructional needs of any type of player, regardless of age or experience.
Scheduling
Students are assigned a "time slot" – a regular time and day each week to meet with their instructor. Students are expected to attend every week unless other arrangements are made with the instructor. There is no set curriculum; rather, the lessons are "tailored" to the individual student's needs. We truly want to help YOU achieve your goals in a comfortable and relaxed environment!
To get the most out of their lessons, students should bring:
Their instrument
A folder and a notebook for transcriptions and handouts
Supplemental materials being used, such as CDs, notation, and tablature