Gear Up rents outdoor adventure equipment and delivers it right to your door or campsite in the greater Raleigh area!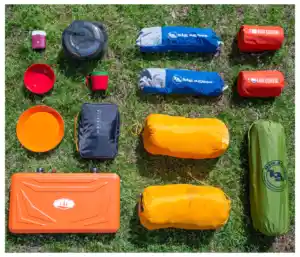 Gear Up strives to educate and break the barriers of getting outside with easier access to equipment and outdoor skill-building outings. Rent high-quality gear for your next camping or backpacking trip at a fraction of the cost to purchase and have it delivered right to your door! Try a camping package with all the essentials or build one to fit your adventure by choosing items from their inventory of tents, sleeping bags, kitchen supplies, and more. In addition to saving you money, you don't have to worry about having a place to store all that gear you may only use once or twice! Using Gear Up for your needs saves on space inside your house, reduces the amount of stuff you actually own and have to care for, and it saves your wallet!
Gear Up brings the ability for you to get out on to that perfect road/camping/backpacking/you-name-it trip right to your door. In just 3 easy steps you'll be on your way to a wonderful experience and a lifetime of memories.
1. Select the Equipment You Wish to Rent: What kind of equipment are you looking to use for your trip? A complete 4-Person Package? Just a sleeping bag? Chances are, they have what you need! Add what you would like to receive to your cart and you're one step closer to that adventure!
2. Schedule Your Adventure's Start/End Date: Just simply select the dates that you will have the gear in your possession. For a weekend trip select Friday, Saturday, and Sunday. Rentals for longer than a week can be arranged by contacting Gear Up directly.
3. Delivery and Pickup: Enter your delivery address and any special notes during checkout. Your rental equipment will arrive the day before your first start date. Your rental will be picked up the day after your end date.