Hello Beer Lovers,
Carolina Brewing Company's 20th Anniversary is One Month Away!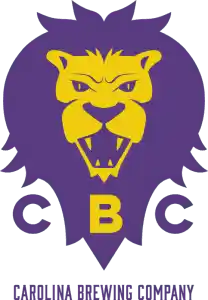 They have so much to celebrate and they want to share it with you! They have rebranded their logo for the first time EVER. They love the original lion, but it was designed in 1995 and they felt its time was up. Their updated lion design will appear on all of their 6 packs and should start showing up in the market over the next month or two. Here is a sneak peak!
The first package to see with the new logo is their brand new CANS! Another brewery first for them. They did a run of about 300 cases of CPA in 16oz cans in 6-packs. Just say no to 12oz! Great for the beach, the pool, the golf course, and all those other places you can't take a bottle.
Construction on the TAPROOM is under way! The old bar that had been in their tasting room for 20 years is gone and things are a little torn up now, but they are excited to see the change happening. Sadly it will not be done in time for the Anniversary but it should be finished not long after it.
Beer News!
They have introduced their first new addition to their year round lineup in the last 9 years: Hop Roar, a West Coast Style IPA. This is the beer they made for NC Beer Month this year and it was so well received it has made the starting lineup. It is full of hops that give it a citrus and fruity aroma and flavor and nice bitterness. It will be draft only until the 6-packs come out this fall.
They have brewed two special beers to celebrate their 20th Anniversary. They are the annual fan favorite Imperial IPA and a Belgian IPA. Both will be available at the end of June and will be at their anniversary party.
The Summer Seasonal Summer Ale is available now.
Plan to join them for their Anniversary Party. As always, it will be at their very first account, 42nd St Oyster Bar in Raleigh on Friday July 3. They will also be having a special 20th Anniversary Tour on Friday July 3rd at 1pm. They will be closed Saturday July 4th.