It all started when Kemp Dunbar and his friends were hammocking in the park when they discovered that their so-called made in America hammocks were actually manufactured in Malaysia and Indonesia. This kind of dishonesty bothered Kemp, and he decided to take his engineering know-how and put it to use in creating a hammock company of his own that actually makes the hammocks right here in North Carolina.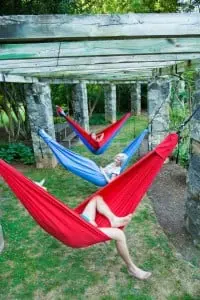 Having studied at NC state, Kemp had spent a lot of time relaxing in his hammock around campus. Though he liked the hammock he had, he saw there was a market for hammocks for everyday people, not just the hyper-outdoorsy. When he created Sluice Hammocks he aimed to do just that, to bring hammocking to the masses. Sluice hammocks are all handmade and meet the highest standards of quality and workmanship. Not only are the hammocks well made, but they are also incredibly easy to use. Once you find a good spot to relax, it takes just a minute to get the hammock set up and ready to go.
Since Sluice hammocks are made in North Carolina, many of their hammocks come with designs unique to Raleigh and the triangle area. Sluice will be joining us at this year's Boutique Blowout and will have their many different designs ready to try out for a relaxing experience you have to feel to believe.