It's NoshUp time!
Ethnosh™ guides you to the most delicious ethnic food in your area, garnished with the stories that bring the flavor to life. Immigrant and locally owned monthly food series!
It's NoshUp time! That's right, tomorrow night, Wednesday, August 13 from 6-8pm, is the next Nosh Up at Troy Mezze. Come enjoy delicious Turkish food and get acquainted with Arif Denk, who brings all of this goodness to the City Market.
$5 at the door gets you a tasty platter of signature samplers. Vegetarian and non-vegetarian platters are available.
In the meantime, feast your eyes on our own signature sampler of words and images, with much thanks to writer Lisa Jeffries of I Heart Retail and Stacey Sprenz for bringing their talents to the table and making Ethnosh real!
Check it out, and see you on Wednesday!
What: Ethnosh
When: August 13, 6-8pm
Where: Troy Mezze, 315 Blake St., Raleigh, NC 27601
Cost: $5
Troy Mezze
By: Lisa Jeffries, I Heart Retail
More than a Lounge, but Rather a Downtown Escape
Don't let the name deceive you, Troy Mezze Lounge is more than a place to enjoy drinks and music. Owner, operator, and chef Arif Denk, a native of Troy, transports diners at this charming City Market destination to an authentic Turkish cafe.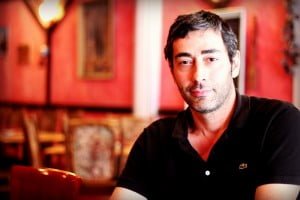 Describing Turkish cuisine as originating during Ottoman empire, Denk notes that the cuisine is based around staple ingredients including olive oil, garlic, lamb, chicken, and various spices that add immense flavor, without overwhelming heat. In fact, he said his diners more frequently ask for additional spice, rather than being turned off by excess heat in the dishes they've ordered. The iconic image of flame-looked lamb on a gyrating spear for slicing to be served in gyros extends to beef and a wide variety of kebabs are served marinated "Turkish style".
Open for both lunch and dinner, Troy Mezze Lounge offers a rather large menu including gluten-free and vegetarian options. Lunch includes corbalar (soups), salatlar (salads), Soguk Mezeler (cold tapas), hot tapas, Turkish pizzas, wraps, Guvecler (clay pot dishes) and more. The dinner menu takes the lunch menu of soups, salads, and tapas, and expands those shareable selections with traditional main courses including Iskender kebab (Alexander Gyro), Mediterranean eggplant, chickpea chicken stew, spicy Adana kebab, Tavuk Sis (chicken shish kebab), beef shish kebab, lamb chops and baked salmon. Save room for dessert or plan to share any of the choices: Lokum (Turkish Delight), baklava, Troy chocolate krema (rich chocolate mousse), and homemade vanilla ice cream.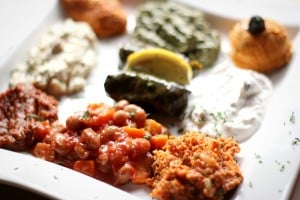 Diligently careful in his selection of the ingredients he's willing to bring into his kitchen, if Denk cannot source the quality ingredients needed for a particular recipe, it doesn't make the final cut to his menu. All of the tapas, entrees, pizzas and clay pot features are prepared fresh on-site by Denk himself, excluding the pita bread served alongside tapas dishes.
Denk mentions that there are traditional Turkish dishes which are explicitly left off the menu because he doesn't feel that consumers would find them appealing enough to order, citing otherwise enjoyable, but plain and simple desserts commonly found in Turkey, as well as items which he doesn't have experience in preparing himself.
Extending the hospitality to alternative menu diners, Denk offers many options for gluten-free and vegetarian diners and readily offers to suggest customized tapas platters to ensure all diners in groups are pleased with the shared selections.
In addition to the traditional full bar, Troy Mezze Lounge also offers various Turkish beer, wines, coffee, hot tea, a "Troy Iced Tea" made of ginger, fresh mint, lemon juice and a hint of cinnamon, and a $15 Hookah special (outdoor use only, weather permitting). On Thursday evenings at 7:00 p.m., Troy Mezze Lounge welcomes a live west coast jazz band and belly dancers with no admission fee.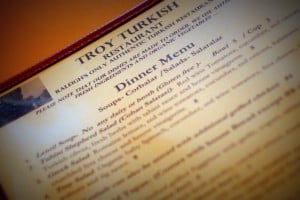 Can't make the Ethnosh eat-up event? Visit Troy Mezze Lounge for Downtown Raleigh Restaurant Week, August 18 through August 24, for a three-course prix fixe dinner for just $20. The special menu includes your choice of baba ghanouj, hummus or spinach tarator for the first course; lamb, chicken, veggie or shrimp clay pot for the second course; and baklava, walnut samolina or vanilla ice cream for dessert.
Troy Mezze Lounge is located at 315 Blake Street in Historic City Market in Downtown Raleigh and can be reached by phone at 919-834-8133. Visit http://troymezze.com/index.html to see full menus, for information on upcoming specials and events, or to make reservations.
Troy Mezze
315 Blake St.
Raleigh, NC 27601
Ethnosh will be a traveling series with one event every month at a different locally owned, independent and ethnically owned restaurant! If you're interested in being a food blogger for one of these events or recommending a location for this Ethnosh event, contact Stacey Sprenz or Jennifer Martin today!