Resist the Urge to Amazon, Shop Local!
Yes the time is near and it is oh so tempting to just pull up your little Amazon app, tap a few pics and hit that "one click delivery" button and be done with it all. But wait a minute here, your hard earned dollars are now going where?
I can tell you this, they are not going back into Wake County, the place you call home. The county that relies on us, the taxpayers, to fund the schools, road improvements, city projects and more. No, that money is not going to help your favorite coffee shop pay their employees. It's not going back into the city's funds for our school system.
So yeah, it's easy and convenient, but is it really that hard to shop local? Not in this day and age where most retailers offer online shopping! And to make it even easier, we have compiled a list of retailers who offer online shopping here in Wake County.
Gift Ideas for The Whole Family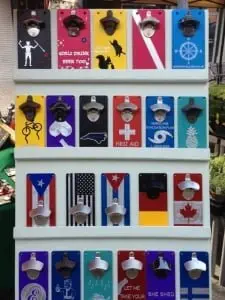 Need a unique gift for the beer lover? Get a custom made wall mount bottle opener from Daleism Openers.
Looking for a beautiful piece of jewelry for mom? Shop online at Bailey's Fine Jewelry . And what about the stylish, successful brother of yours? He can take on any day in a pair of sophisticated, fun ExecSocks. Of course we wouldn't forget the dog lover in the family. Check out Binky and Bell or Labrottie Creations. You don't have to go out on the town to support our community. Put on your comfy clothes, light the fire and shop at one of the locally owned independent businesses listed below.
But wait, there's more. These are only a few of the businesses in our area that offer online shopping. Find more retailers in our directory.
Invest in your purchase, don't just buy something to check off the list. Your family and friends are worth it.