The Daily Planet Cafe is pleased to be the exclusive restaurant offering White House Black Angus beef from Knightdale, NC! They are now proudly serving White House Black Angus burgers!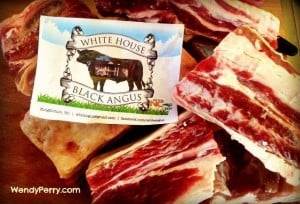 About Daily Planet Cafe: The Daily Planet Cafe, located in the new Nature Research Center of the NC Museum of Natural Sciences, will feature breakfast entrees and pastries, a full coffee bar, sandwiches, seasonal salads, small plate entrees, 8 North Carolina beers on tap, and Childress NC wines on draft — a first for the area. Speaking of North Carolina, it wouldn't be politically correct to not offer local products from farmers and growers within our great state. After all, we are in a North Carolina museum. So, our menu will be almost exclusively built on products born and bred in the Tarheel state. In addition to great food and drink, The Daily Planet Cafe will be a downtown destination for live jazz, live music on the patio, trivia events and science cafes.
About White House Black Angus: Our goal is to provide from our family to yours a locally grown product with great taste and extra value. Raising cows and the land they're raised on have been in our family for generations, and we want to give your family the full experience of knowing the family and the farm that has grown this healthy food with you in mind. We understand that it is important to know where the food you are putting on your plates is coming from. It is to our families. It brings a certain peace of mind to know that your food was raised with daily care, on pasture, and without all the things most beef is subjected to on feed lots a thousand miles away. We work hard to give you a great tasting product. To ensure that great taste, our steer are finished with a ration of grain and grass. Thank you for stopping by, and we look forward to seeing you again soon!
*We have had our Meat Handlers License approved and all of our packaging is done by a NC and USDA certified packaging facility here in NC.