Elusive Book Character Creates Summertime Fun to Support Raleigh's Shop Local Movement
Where's Waldo? In Raleigh, of course! For the third year, the famous children's book character in the striped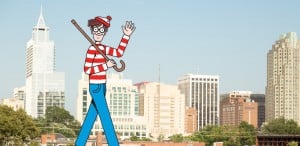 shirt and black-rimmed specs is visiting 24 different local businesses throughout our community this July. Those who spot him can win prizes, including buttons, book coupons and more. Presented by Shop Local Raleigh and Quail Ridge Books, Where's Waldo Local is a great summer vacation activity, and a wonderful way for Raleigh residents to support local business and the Shop Local movement!
Anyone who wishes to participate can pick up a "Find Waldo Local in Raleigh!" passport at Quail Ridge Books & Music with the names of all the participating sites and get their passport stamped or signed for each Waldo they spot. The first 100 Waldo seekers to get their passports stamped or signed at ten or more sites can bring their passports back to Quail Ridge Books to claim and "I Found Waldo" sticker and $1 off a Waldo book coupon. Collecting store stamps or signatures at ten or more businesses will entitle participants to a grand prize drawing on August 1st, with the top prize being a 6-volume deluxe set of Waldo books. Other prizes include gift certificates to local businesses, local treats and more.
Where's Waldo is the creation of Martin Handford, whose entertaining drawings of crowd scenes swept the world in the late eighties. Since then, the Where's Waldo books have held a cherished spot on bookstore shelves the world over. There are now over 61 million Waldo books in print worldwide and they've been translated into over 30 languages. An entire generation has grown up searching for Waldo and his cast of wandering companions.
In celebration of Waldo's longevity and popularity, his American publisher, Candlewick Press, is once again teaming up with the American Booksellers Association and 250 independent bookstores all across the country, including Quail Ridge Books, in Raleigh, for some hide and seek fun as well as to encourage communities to patronize their local businesses.
There is no charge to participate, and the hunt lasts for the entire month of July! For more information about hunting for Waldo in Raleigh, contact Shop Local Raleigh at info (at) shoplocalraleigh dot org.
2015

Find Waldo in Raleigh

Participating Businesses:
Always Poppin' Gourmet Popcorn– Large Gift Pack Tin of Popcorn- retail value $25
Burke Brothers Hardware
Crowemag Toys
Hughie & Louie's Costume Shop– $25 credit to the store
Citizen Yogurt (Citizen Pops)
Edward McKay Used Books & More– $25 Gift Certificate
Escazu Chocolates
Gameday Sports Outlet– 2-$10 Gift Certificates
Galatea Boutique– $25 Gift Certificate
Groovy Duck Bakery
Iced Cupcakes
Go Girl Shoppe
Quail Ridge Books & Music
The Carolina Popcorn Shoppe– $25 Gift Certificate
The Cupcake Shoppe & Bakery
The Green Monkey– $25 Gift Certificate
Goodberry's Frozen Custard
nüvonivo– $25 Gift Certificate
NOFO @ the Pig– $25 Gift Certificate
Seaboard Ace Hardware
Stone's Education & Toys
The Alley
Videri Chocolate– $25 Gift Card
Yarns Etc.
Game card to print: