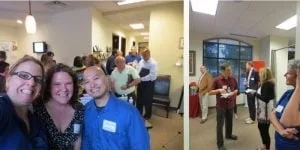 Weekly open Meet & Greet event. Each week a different health topic is chosen. Join in! Learn and contribute to healthy discovery in the Triangle.
Hands on Health has invited chiropractors, acupuncturists, PTs, OTs, nutritionists, dentists, orthopedists, and neurologists to Drop In & Discover the benefits of partnering with our Hands On Health team. Join in and meet these community health providers. It's a great time to ask those you never have time to ask during your provider visits!
Choose your session here!