4th Friday Connections at
Get to know fellow Shop Local Raleigh members and meet local business professionals in a relaxed atmosphere during 4th Friday Connections!
Join us in supporting a local business during this monthly meetup and networking event. Each month we will travel to a different host location giving attendees the opportunity to check out a variety of unique businesses that call Wake Co. home.
July's 4th Friday Connections host is
Groovy Duck Bakery

!
🗓  
July 28 from 9:30 – 10:30 AM
📍

3434 Edwards Mill Rd Ste 110 Raleigh, NC 27612
👥 Free to attend & open to all local business professionals
Meet us at Groovy Duck Bakery on July 28 for a morning of coffee and conversation!
RSVP by selecting "Going" in the Facebook event.
Invite your friends & network to do the same!
About Our Host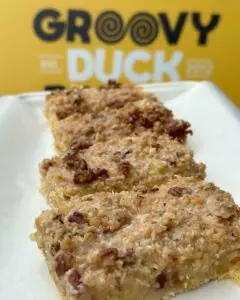 Groovy Duck Bakery is a down to Earth, American bakery.
They aren't a Southern bakery (but Groovy Duck Bakery sweet potato biscuits would make any southern grandma proud).
Not a Jewish Bakery (but they make some of the best rugelach you'll ever have).
Not a Northern bakery (but you'll find Groovy Duck Bakery cakes lean toward a more northern style, light, not too sweet).
Not an Italian bakery (but the almond horns rock).
Like America, Groovy Duck Bakery is a bit of this and a bit of that!
Join us every 4th Friday of the month for 4th Friday Connections, a free networking event traveling to different host locations throughout Wake County!
Join us for September's Tech Tuesday Webinar Beyond Brick and Mortar Tuesday, September 19th 1:00 – 2:30 PM Free webinar open to all local business …