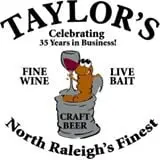 With springtime right around the corner, it's time to get out there and enjoy some NC Craft Beer! Wake Forest's White Street Brewing is now bottling and Taylor's Wine Shop has three of their beers in stock. Perfect timing, right?
First up is the Kolsch – Pours an old-gold with a fine, white head. A subtle fruitiness aroma extends to the palate with hints of pear and melon. Crisp and refreshing. Gold medal winner at 2014 World Beer Cup.
Second is the Scottish Ale – Pouring a deep mahogany, it produces a tight tan head that gives way to a complex maltiness. Herbal and spicy notes play nicely in a caramel essence to produce a beautifully sessionable brew.
Saving the best for last is the Hoptimist IPA – This glass-half-full IPA has notes of pungent citrus and earthy resins with an uplifting malt balance. 7.5% ABV, 65 IBUs
Be sure to make your calendar for the first Parking Lot Party of 2015 at Taylor's Wine Shop! Bring your lawn chairs and the whole gang to enjoy an afternoon of drinking and entertainment. There will be beer and wine tastings as well as live music by Velvet Goldfish. The food truck on deck will be King's Philly Cheesesteak! Best part of all? The event is free! Be sure to check it out on April 18th from 3pm-6pm.